Friends of Hastings Cemetery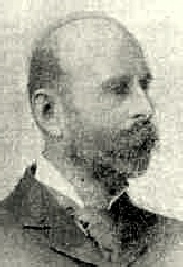 EK O30 / O31
A splendid Celtic cross in grey granite, on a double plot, to the memory of Dr Charles Henry Allfrey and his wife, Emily Malden Allfrey.
He lived and practiced at Plas Newydd, Princes Road, St Leonards.
He was born in 1839 at Stamford Hill, Middlesex. His father was from Friston Place near Eastbourne.
He was educated at Dr Turrell's School
Chartles Henry Allfry MRCP
Born Mar 2, 1869. Died Arpil 16 1912
Also of
Emily Malden Allfrey
Wife of the above
….
at Brighton and at King's College, London, where he entered the Medical Department in 1857, going from there to Edinburgh, where he graduated with honours. Back in London he obtained his diploma of MRCS, and later FRCS.
1890: he settled in practice in Sussex at St Leonards and was President of the St Leonards District Conservative Association.
In 1892 he unsuccessfully stood as a candidate in St Mary Magdalen ward for the Borough council, but in November 1893 he was elected for St Leonards ward.
While practising in Kent, he was one of the doctors who cared for Charles Darwin in his terminal illness and he became a personal friend, was invited to his funeral, and signed his death certificate.
1891, living at 6 Villa Rd
ALLFREY Charles H Head M M 52 Physician (Registered) Hackney
ALLFREY Emily M Wife M F 53 Kent - St Mary Cray
SMITH Caroline Servnt S F 24 Cook (Em'ee) Battle
RUSSELL Louisa J Servnt S F 25 Housemaid (Em'ee) Wiltshire - Tisburn
DEWMAN Minnie E Servnt S F 20 Parlour Maid (Em'ee) Horsham