Friends of Hastings Cemetery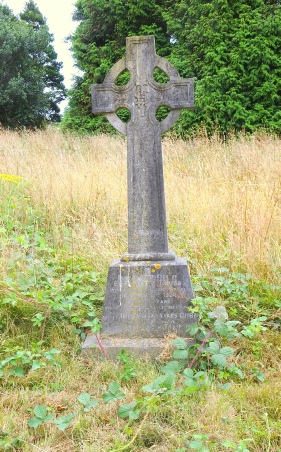 EK C02
In
Dear Remembrance of
Ethel Mary Chubb
Who passed to higher service
November 3rd 1924
Aged 42 years
…......... they shall see His face
Also of John William Evans Chubb
Father of the above
[Who died 17th September 1924
Aged 74 years]
Also Mary Ann Chubb
[Who died 13th May 1949
Aged 93 years
Wife of the above J.W.E. Chubb & mother of
Ethel]
Also Gertrude Emily James
Who died 26th May 1950
Aged 69 years
Wife of Frederick J James
And second daughter of John & Mary Ann Chubb
Died at Merton Park SW20
Hastings and St Leonards Observer - Saturday 08 November 1924
LADY MUSICIAN'S DEATH A WELL KNOWN FAMILY BEREAVED.
Miss Ethel Mary Chubb, third daughter of Mr. W. J. E. and Mrs. Chubb, of George-street, passed away on Monday. She had been an invalid for some years, and had borne her affliction with great patience, with never a murmur or complaint. She often had a setback, but recovered; the last attack of acute bronchitis proving too much for an already enfeebled frame. Her end was most peaceful. Even under geat suffering, she knew both parents and spoke to them to within a few minutes of her last breath.
If ever there was earthly saint she was one, and was always thinking and working for others, and especially her church; and many churches have received aid by her work. For years she devoted her faculties- and they were varied and many — Sunday School, Guilds, Choirs, all had her help in many ways. Organist of the Children's and Guild services at St. Clement's under the Rev. H.C.B. Foyster, she started the Mary's Guild, which was a great feature. She taught first aid, French, lacemaking, and wrote a play, "The Other Wise Men," which the Guild produced; gave lectures on various topics, and there are many girls and young women who will revere her memory.
During the war she became organist of Brede, and brought the services up to a high level, trained a good choir; rather than extemporise she wrote a new voluntary each week. When the Rector of Brede had the bell tolled the whole village went in mourning for one they had learnt love so well. Her whole life, even during her long illness, seemedto be one of doing all she could for others.
The funeral service was yesterday (Friday) afternoon at St. Clement's Church. It was conducted the Rev. H. B. Cole, assisted by the Rev. C. C. Brewer, Rector of Brede, with the choir of Brede Church. A large number of friends were present, including representatives of the local newsagents. The principal mourners were:—Mr. and Mrs. J. E. Chubb (father and mother). Miss Edith Chubb and Mrs. James (sisters), and Miss lsobel Baker, who was with the deceased lady every day for the last five years.
Hastings and St Leonards Observer - Saturday 15 November 1924
THE LATE MISS E. M. CHUBB.—Mr. and Mrs. Chubb desire to convey their heartfelt thanks to the very many who sent sympathetic messages in their great bereavement. It was an astonishing outburst of affection to one who, though unwell, had tried do so much for others.