Friends of Hastings Cemetery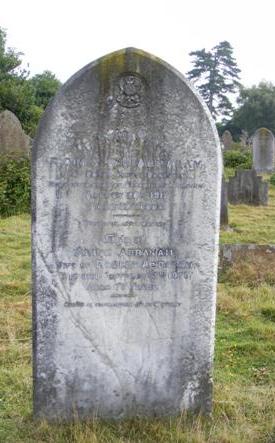 EG L05, Reverse - Robert Horace Abraham
In Loving Memory of R.O.M.S R. H. Abraham
5th Royal Sussex Regiment.
Who passed away at Poperinghe, Belgium
August 28th 1917; Aged 32 Years
'Faithful until death'
Also of Annie Abraham,
Wife of Robert Abraham,
Who died September 5th 1930, Aged 78 Years
'Death is swallowed up in Victory'
Regimental Quartermaster Sergeant died at No. 17 Clearing Station in Belgium on active service. He is buried in Lijssenthoek Military Cemetery.
He was the son of Robert and Annie Abraham, and was born in Brixton on 14th August 1885. When he was baptised in St John the Evangelist Church in Brixton on
1st November 1885, his parents were living at 69, Sussex Rd and his father was a carpenter.
By 1896 the family was living in Hastings, as we know from the grave of Robert senior. (EG L05)
In 1901 Robert and his mother, a widow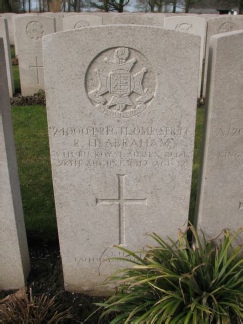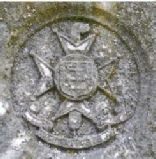 of independent means, were living at 17 Old London Road, St Leonards, in a fairly substantial house of seven rooms.
Robert was still at school, but by 1911 he was working as a monumental sculptor.
Annie, on whose grave Robert is commemorated, continued living at this address until she died at the age of 78 in the Buchanan Hospital on 5th September 1930, leaving an estate of over £3000.
Hastings and St Leonards Observer - Saturday 29 April 1916
The Magpies and Their Hut
Fegimental Quartermaster Sergeant Robert Abraham, one of the members of the Hastings Mapgie Concert Party, has sent home from the Front a notable contribution to the special effort of the Party in providing a fresh-air hut at West Den Red Cross Hospital. He has cut out of brass takenf rom a French shell the words, "Magpioe Hut" and mounted them on oak, and this artistic notice board now adorns the hut at West Dene.
By their cafe chantants, the Magpies have raised over £100 for War Funds.
After the war, The Magpies gave concerts to raise money for a Magpie Bed in memory of Robert Abraham.
Hastings and St Leonards Observer - Saturday 08 September 1917 - Correspondence
R.Q.M.S. Robert Abraham
The war has taken toll of many good men and true, among them "Robbie" Abraham was one of the best and truest.
Before the war I suppose there were few better known figures in Hastings than this fine, well set up young fellow, for he was well over six feet and broad in proportion with the strong, kind face, and the merry smile and pleasant word for everybody he met.
He was in All Saints' Choir from his boyhood, and it is nearly seven years now since, after hearing him in "Elijah", I offered to help him with his singing, and his keenness and enthusiasm made the work a joy for to teacher as well as pupil. He was one of the original "Magpies" and took two first prizes at the Musical Festival, and soon the pupil got beyond the teacher, and I had to insist on his going to a better one. Then came his much-loved student days at the Guildhall School of Music under Liza Lehmann, and the promise of a brilliant career as a singer, for he had a great personal gift, and his whole heart and soul was in his work. He won an exhibition at the Guildhall School of Music in July, 1914, and was looking forward to making his debut in London that autumn.
Then war was declared, and without hesitation he put his prospects aside to answer his country's call. He never groused, and only those who know, as I do, what his music meant to him, know what it cost him to give it up. But he said to me, "This is going to be a man's job", and being a man first and a singer afterwards, he put his music aside. His only hesitation was on account of his widowed mother to whom he was everything in the world: but she who had brought him up and made him the man he was would not spoil her work by letting him shirk his duty for her sake and so he went to France in February, 1915, with his battalion of the royal Sussex, to which he had belonged since he was a boy of 16. He got his long service medal before leaving England, and could have taken his discharge more than a year ago when his time was up, but it never entered his head to do so, and he rejoined at once for the duration. When he came home on leave, he was always the life and soul of our Magpie concerts, and the Magpie Teas and Suppers, with games and dances that followed them. And before he returned to France the early morning would always see him kneeling at the Altar at Christ Church to receive the strength and help that he needed for his work out there.
And now he has made the Great Sacrifice and proved himself faithful, even unto death, for though his call came through an accident and not a German bullet, his life for three years had been given to his country, and he died in her service. And though the voice we loved to hear is hushed, and the happy laughter stilled the noble example of selfless unhesitating devotion to duty, of truth and honour and unselfishness, which he has left behind him, will live forever in the hearts of the many who loved him. R.I.P.
Florence Aylward
[Florence Aylward was born at Brede Rectory in Brede, East Sussex, England in 1862, the daughter of the Rector of Brede, Augustus Aylward and his wife Mary. Florence studied at the Guildhall School. She began composing at an early age, and her songs began to be performed at local concerts when she was 12.[She wrote over 150 songs. She died at St Leonards 1950.]