Friends of Hastings Cemetery
Adams, James & parents, Edward & Alice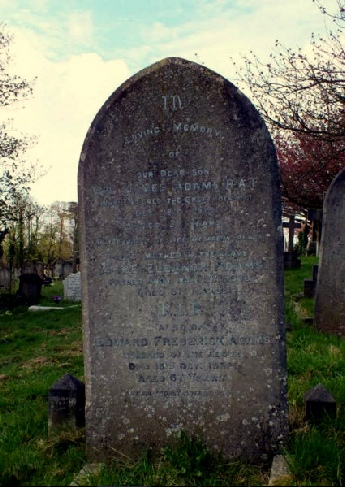 LB A22
In
Loving Memory
of
Our Dear Son
Cpl James Adams R.A.F.
…........
Aged 30 years
It is hard to read further, but also buried in this plot and remembered on the memorial, are his Mother, Alice Eleanor Adams, who died in May 1930 aged 61, and his Father, Edward Frederick Adams, a fisherman, who died in October, 1932, aged 67.
In 1891 Edward and Alice with living with their first daughter at 1 Albert Cottages. In the 1911 Census, James, his parents and 5 siblings, were living at 4 Crown Cottages, Crown Lane. They had ten children and the cottage had 5 rooms. His father a fisherman and James a Fisher lad.
Hastings and St Leonards Observer - Saturday 27 December 1919
IN MEMORIAM. In loving memory of Corporal James Adams (Belcher), R.A.F., who entered the Great Beyond, at Netley Hospital, after eight days' illness, second son of Mrs. and Mr. E. Adams, 4, Crown Cottages, Crown-lane, Hastings, aged 20 years.
"In the midst of life we are in death." From Mum, Dad, Sisters and Brothers.