Friends of Hastings Cemetery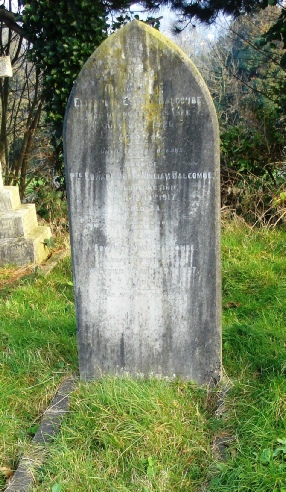 FD A29 Elizabeth Esther Balcombe
Edward John Balcombe
Edward John William Balcombe
In memory of
Elizabeth Esther Balcombe
who died 26th July 1926 aged 74.
'Until the day breaks'
Also of Private Edward John William Balcombe
killed in action 12th or 13th April 1917
'Thy will be done'
Also of Edward John Balcombe husband of the above 'Gone but not forgotten'
Elizabeth Esther Balcombe (nee Stevens) was born in Bexhill in 1852. Before her marriage to Edward John Balcombe in 1887, she worked as a lady's maid. In 1881 she was in the household of Jane Bird at 59 Marina.
Edward and Elizabeth had two children, Samuel Percy (1888-1963) and Edward John William Balcombe (1894 – 1917). Edward Senior worked in the grocery trade as a porter and shop assistant. The family lived at 58 Emmanuel Rd in 1891, at 81 Emmanuel Rd in 1901 and at 47 Alma Villas, Silverhill in 1911. Both children were born in Hastings, as was their father in 1864.
In 1911 Samuel was working as a house painter and Edward John William as a French polisher and upholsterer.
Edward John William Balcombe enlisted at Haywards Heath. There are no military records for him, so it is not known whether he volunteered or was conscripted. He was a private in the 9th Battalion Royal Sussex Regiment. He was killed on either 12th or 13th April 1917. He seems to have had a battlefield burial and was removed to the Canadian Cemetery No. 2 at Neuville St Vaast in 1919. The verification form from the CWGC was not sent to his family as there appeared to be no recent address and no application was made for additional wording on his gravestone. No next of kin or age is listed on his CWGC entry, although we know he was 23 when he died.