Friends of Hastings Cemetery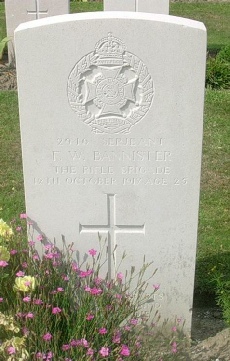 EA M03 - Bannister
In Loving memory of Maud
wife of Sodi Bannister died 3rd February 1924 age 54 years
'To live in the hearts of those we leave behind is not to die.'
Also of Sodi Bannister husband of the above died 18th January 1938 aged 69.
Also of Fred eldest son of the above killed in action in France 12th October 1917 aged 26 years.
Maud Bannister was born in Hastings, as was her husband, Sodi Douglas.
In the 1891 Census they are shown living at 10 Priory Road, Bradbourne Terrace.
Sodi was working as a blacksmith (employee) and they had a four month old daughter, Eleanor, born in Ore.
Their son, Frederick William, was born a year later, in 1892.
SERJEANT FREDERICK W. BANNISTER
RIFLE BRIGADE
DIED ON 12 OCTOBER 1917 AGE 25
CEMENT HOUSE CEMETERY
WEST-VLAANDEREN BELGIUM
Son of Sodi and Maud Bannister, of 17, John St., Hastings.
Sodi was a milkman from 1927 - 1938. On 22 Jul 1937 17 John Street was purchased for £950 from Sodi Douglas Bannister by the Housing Committee, which purchase included deeds for 17 Winding Street. He paid £6.6.0 in costs.