Friends of Hastings Cemetery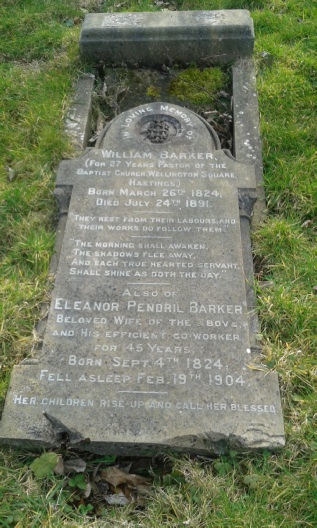 In Loving Memory of
William Barker
(For 27 ears Pasor of the
Baptist Church, Wellington Square,
Hastings.)
Born March 26th 1824:
Died July 24th 1891
They rest from their labours; and
their works do follow them.
The morning shall awaken,
The shadows flee away,
And each true hearted servant,
Shall shine as doth the day.
Also of
Eleanor Pendril Barker
Beloved wife of the abobe,
And his efficient co-worker
for over 45 years.
Born Sept. 4th 1824
Died Feb. 19th 1904.
Her children rise up and call her blessed.
Ordination and Recognition Services, Baptist Magazine, 1863
Wellington Suare Chapel, Hastings - The Rev. William Barker, late of Chruch Street Blackfirars, was publicly recognised as the pastor of the curch in the above place on September 17th. ........... The Sabbath congregations have nearly doubled since Mr. Barker entered upon his labours.
In 1900 the Observer published "In Memoriam. Some Noteworthy Citizens, which included the Rev. William Barker.
The Baptist Church in Hastings - and indeed, it may be said, the town generally, suffered great loss by the death of the Rev. William Barker, for many years Pastor of the Wellington Square Chapel. He was born at Olney, Buckinhamshire, and wa educated in early life for the ministry. He preached his first sermon when only fifteen years old, and commenced the work in which he was so successful in after years at Walsall, Staffordshire, as an Independent. However, in the year in which he was married, his religious views underwent a change, and he was received into the Baptist Church, a member of which he remained until his death. It was in August, 1863, that he came to minister to the Wellington Square congregation. He died in 1891, in Devonshire, at the age of 67 years. He was an extremely able preacher, and was held in deep respect by all.