Friends
Of
Hastings
Cemetery
EA X18
In Loving Memory
Of
William Foord Beaney
Died Dec. 5th 1898
Aged 58 Years
In the midst of life we are in death
Also of
Esther Beaney
Widow of the above
Died June 11th 1923; Aged 83 Years
Also of / their two sons
Charles Arthur Beaney, Stoker, P.O.
Killed in action off Ostend
on H.M.S Falcon
Oct. 28th 1914; Aged 38 Years
Albert Edward Beaney
Who lost his life on H.M.S. Hogue
Sept. 22nd 1914; Aged 35 years
Peace, Perfect Peace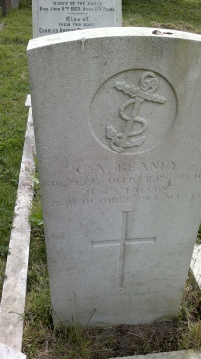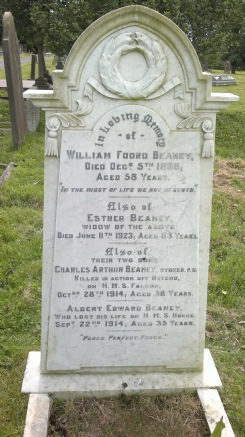 Charles Arthur has his own CWG stone at the front of the family plot.
Albert Edward is also remembered on the Chatham Naval memorial. He worked for the Post Office and is recorded on Hastings Postal District World War One War Memorial (photos on page 3, with details of H.M.S. Falcon and H.M.S. Hogue.)