Friends of Hastings Cemetery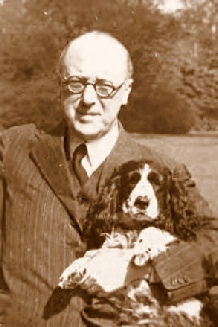 On 12th (or maybe 13th) May 1914, Harry Geoffrey Beasley married his cousin Irene Marguerite Beasley in All Saints Church. Leamington Spa. The same year, he became a Fellow of the Royal Anthropological Institute and was an active member until 1937, serving as vice-president between 1932 and 1937. In 1928 Beasley and Irene had moved to Cranmore House in Chislehurst and there set up the Cranmore Ethnographical Museum which eventually held more than 6,000 objects of ethnographical interest.
Harry had begun collecting at the age of 13 when he bought two Solomon Island clubs and later devoted himself to collecting artefacts from around the world assisted by Irene.
The Beasleys collected objects from across Europe, buying from auction houses and local museums to expand the collection, which contained material from the Pacific, Asia, Africa, and Northwestern America. Beasley wrote numerous articles for anthropological journals and was considered an expert in his field.
In 1928 Harry published his first monographe "Pacific Island Records: Fish Hooks" which he dedicated to I M B, [his wife] whose fertile mind, ever keen, has lightened my task.
[Museums and Biographies: Stories, Objects, Identities
edited by Kate Hill - The Beasley Collection of Pacific Artefacts]
From 1915 Beasley was involved in wireless telegraphy in the Flying Corps, a full-time activity that kept him away from his home and his collecting. Acquisitions decreased significantly and it was not until 1920 that he was able to resume collecting.
To add to the legitimacy of his institution he invented a date of foundation, 1895, the year when, at the age of 13, he bought his first object. He published monthly advertisements in the Museums Journal from 1928
In 1933 he published an article in the Museums Journal "New Suggestions on Museum Lay-Out." engaged with the technical side of museum-making. He also created a journal, Ethnological Cranmoresis, of which four issues were published in 1937, two in 1938, and two in 1939.
He died in 1939 from diabetes.
Birmingham Daily Post - Saturday 15 July 1939
Harry Geoffrey Beasley, of Chislehurst, brewer, left gross estate valued at £191,570 (net personalty £109,482). His bequests included £l,OOO to Woolwich Memorial Hospital ; £5OO to the Licensed Victuallers' Benevolent Institution ; and £5OO to the Licensed Victuallers' School, Slough.
The Cranmore Museum was damaged by bombing in the Second World War and in accordance with Beasley's will, Irene offered the first selection of the collection (apart from a limited reservation for herself) as a donation to the British Museum. The gift of several thousand items became fully effective in 1944. Other named beneficiaries include the Pitt-Rivers Museum, Oxford; The Museum of Archaeology and Anthropology, University of Cambridge; and National Museums, Scotland.