Friends of Hastings Cemetery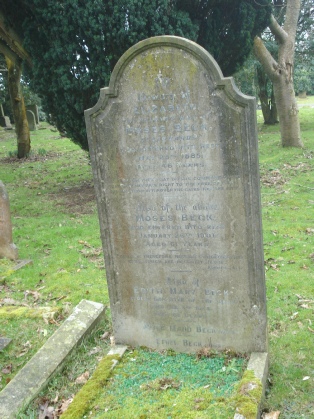 AH A12
In
loving memory of
Elizabeth
beloved wife of Moses St Leonards
who entered into rest
May 28th 1885
Aged 46
"Blessed are they that do his commandments
that they have right to the tree of life and may
enter in through the gates into the city.
Also of the above
Moses Beck
who entered into rest
January 26th 1901
Aged 61.
"There is therefore now no condemnation to them which are in Christ Jesus"
Also of Edith Mary Beck
Eldest daughter of the above
died February 3rd 1953 aged 82
..........................................?
Alice Maud Beck 1962
Ethel Beck 1965
Moses married Elizabeth (nee Hills) in Cranbrook, Kent in 1868. They had 5 children, born in Kent. In 1884 Moses Beck is living at 15 St Matthew's Terrace. As can be seen from the 1891 census, after the death of Elizabeth, they are living with Moses' Father and aunt.
18 East Ascent
BECK William Head W M 86 Retired Baker Sussex - Alfriston
BECK Elizth Dau S F 53 St Leonards
BECK Moses Son W M 52 Book Keeper (Em'ee) St Leonards
BECK Ernest Son S M 21 Draper's Asst (Em'ee) Tunbridge Wells
BECK Edith M Dau S F 20 Telegraphist (Em'ee) Tunbridge Wells
BECK George D Son S M 16 Printer's Appr( Em'ee) Tunbridge Wells
BECK Ethel Dau S F 14 Scholar Tunbridge Wells
BECK Alice M Dau S F 12 Scholar Tunbridge Wells