Friends
Of
Hastings
Cemetery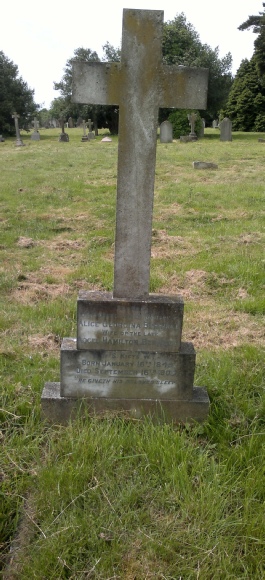 EH B22 Alice Georgina Berridge
Sacred
to the Dearly Loved Memory of
Alice Georgina Berridge
Wife of the late
Axel Hamilton Berridge
of St Kitts W. I.
Born January 16th 1845
Died September 16th 1900
'He giveth His beloved sleep'
Alice Garrick was christened on the 14 February 1845, at St. John, Barbados
She married Axel Berridge, a businessman in Basseterre, St Kitts at St Phillips, Barbados, on the 2nd October 1872.
There is a record of a son who died there aged 4.5 months. Other sources show three (other) children, Alan, Cyril and Amy.
They lived at at The Glen, St Kitts..
Axel died in 1883 yet one source gives a second marriage to a Mary Dugan.
This seems unlikely in the light of the burial memorial erected to him at St Peter's, St Kitts, on a stone cross, by Alice.
There is also a stone cross and slab memorial to their infant son.
There seems no clue why Alice came to Hastings.
To the beloved, the cherished
the unfading memory of
Axel Hamilton Berridge
Born April 28th 1847
Passed away April 15th 1883
Alice Georgina
His devoted wife
erects the symbol of our Holy Faith
—-------------------
Sacred to the memory of
Arthur Axel Hamilton Berridge
The dearly beloved infant of
Axel hamilton and Alice
Georgina Berridge
who departed this life
on 3rd September, 1975
Aged 4 1/2 months