Friends of Hastings Cemetery
Collector: Edward Thomas Booth
Place Collected: Hastings, East Sussex, England, United Kingdom, Europe
Date Collected: Collected 1858-09
ID Number: BCMAS000053/Case 110
Category: Natural Sciences
The birds were collected by Edward Thomas Booth near Hastings in September, 1858.
This case was bequeathed by Edward Thomas Booth to the Booth Museum of Natural History (Formerly Booth Museum of British Birds) in 1890.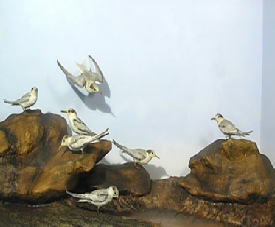 This case of seven mounted Lesser Terns shows the specimens in a setting that is a recreation of their natural surroundings.
About 15 years ago, [from Obituary, 1890] his house in Vernon Terrace, Brighton, being too small for his increasing collection, Mr. Booth purchased some freehold land on the Dyke Road, and erected a residence for himself [Bleak House] and a special building for his birds. Of the latter he issued a catalogue in 1876, which describes the contents of 306 cases and gives exact particulars of the mode in which the specimens were obtained. The Museum was open to the public at a fee of one shilling a head, and the proceeds from admission were given to Brighton charities.
At this stage the Booth Museum of British Birds was not open to the public, which occurred gradually with charitable fundraising events. By then he had formulated his ambition to exhibit one example of every species and recognisable stage of British bird, all of which he had collected, and set about the task of building up his collection.
Frances Booth died on 8 February 1885 at Bleak House. Her nurse, Bessie, became Edward's second wife.
The Booth Collection is stated to have been bequeathed to the Trustees of the British Museum, but with restrictions on its use which make it doubtful whether they will accept the offer. Booth published his Rough Notes, three volumes of coffee table sized books, which amply demonstrate his detailed knowledge and powers of observation. He employed Ernest Neale, a little known artist, who based all of his illustrations on specimens in the Booth Museum.
Mr. H. E. Dresser, who was well acquainted with the late Mr. Booth, describes him, in his prime, as a strongly built, very active and intelligent man, an excellent sportsman, and one of the best field-naturalists he ever knew. A few years ago Mr. Booth met with an unfortunate accident, and injured his spine in a fall. This brought on partial paralesia, and ultimately led to his death at the early age of 50 years. [He died on 2 February 1890]
Edward Thomas Booth, page 2