Friends of Hastings Cemetery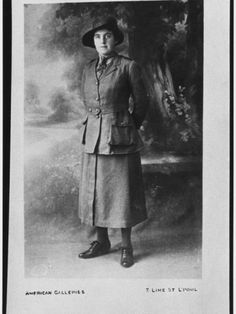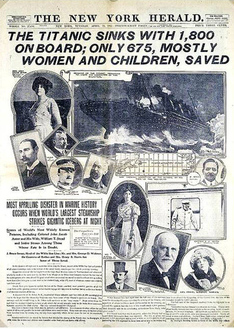 Elsie was privately educated at Wycombe Abbey, a girls' boarding school in Buckinghamshire. (She remained involved with the school throughout her life, writing the biographer of its founder Miss Dove. During the war she established the Dove-Bowerman Trust, and when she died the majority of her estate was bequeathed to the Trust.)
She went to Girton, Cambridge. and joined the WSPU in 1909 which was the most militant of the suffrage organisations. Her mother had joined the previous year in Hastings.
On 22 November 1910, Edith was assaulted and injured by a policeman during a suffragette riot in Parliament Square, London.
In 1911 the two women decided to treat themselves to a trans-Atlantic voyage on RMS Titanic. They were in cabin no 33, when disaster struck. They had places on lifeboat no 6 along with Molly Brown (Unsinkable Molly) and only 19 others. The women helped to row keeping themselves warm. Elsie and Edith continued with their planned tour in the USA and Canada.
"The silence when the engines stopped was followed by a steward knocking on our door and telling us to go on deck. This we did and were lowered into life-boats, where we were told to get away from the liner as soon as we could in case of suction. This we did, and to pull an oar in the midst of the Atlantic in April with ice-bergs floating about, is a strange experience."
During WWI the suffrage movement encouraged women to volunteer for war work and Elsie joined the Women's Party and went round the country organising meetings, working closely with Christabel Pankhurst.
In 1916 Elsie volunteered as an orderly in the London Unit of the Scottish Women's Hospital and with this she travelled to serve the Serbian and Russian armies in Romania via Scandinavia and the length Russia and the Ukraine from Archangel to Odessa.
Elsie wrote a detailed diary of this experience including revolutionary 1917 St Petersburg. Her papers were with the Fawcett Library and are now at the LSE.
March 13th 1917, St Petersburg
Great excitement in street - armoured cars rushing up and down - soldiers and civilians marching up and down armed - attention suddenly focused on our hotel & house next door - rain of shots directed on to both buildings as police supposed to be shooting from top storeys - most exciting. Several shots went through windows. Presently our hotel searched by rebels - came into each room searching for police spy - very nice to us - most polite - several civilians as well as soldiers.

One 'revolutionary' came into our room to dress - didn't know how to wear his sword - we had to assist with the strapping up. Much to our disgust all hotel servants also the manager disappeared - nothing to eat - picnicked in our rooms.

Shooting & shouting continuously all day in the street - several search parties through the hotel at intervals. V. difficult to settle down to anything - sat at hotel window in afternoon, watched crowds in streets, lorries crowded with armed men.
In 1920 she co-founded the Women's Guild of Empire to educate women in politics and to oppose communism. When she was 31 Elsie decided to become a lawyer; she was accepted as a student by Middle Temple and was one of the fist women called to the bar. She was admitted to the Bar in 1924. She practised until 1938 on the South Eastern Circuit. She was the first woman barrister to appear at the Old Bailey, successfully winning a libel action for the National Union of Seamen. She published a book on The Law of Child Protection.
As the Second World War approached, Elsie gave up her legal practice and was co-founder with Lady Reading, of the Women's Voluntary Society in 1938 for which she worked for 2 years. After a short period at the Ministry of Information she began work with the Overseas Services of the BBC, remaining there for over 3 years. In 1947 she returned to the United States to help set up the United Nations Commission on the Status of Women.
In her Who's Who entry she made no mention of her involvement in the suffrage movement.
From the 1940s she spent her weekends at her flat in 23 Silchester Road, St Leonards but when her mother died she moved to Cowbeech, where she died after suffering a stroke, in 1972.
As one approaches the end of life an unaccountable feeling of melancholy creeps over one. This is not because of any fear of the life to come, rather a joyful anticipation.
Life has been so full of surprises that one cannot believe that there are not even greater joys and adventures in store.
Here's Au Revoir to all my friends and countless thanks for all their love and kindness which has given me such a happy life in this world - Here's to our next happy meeting in the next one.
Elsie Bowerman



She was buried in the family grave with her parents in Hastings cemetery. She left an estate worth £143,000.




She was a founder member of the Old Hastings Preservation Society in 1952 and threw her energies into the campaign to save the Georgian Stable in High Street for a theatre.







19th November 2005: a plaque was unveiled at 23 Silchester Road