Friends of Hastings Cemetery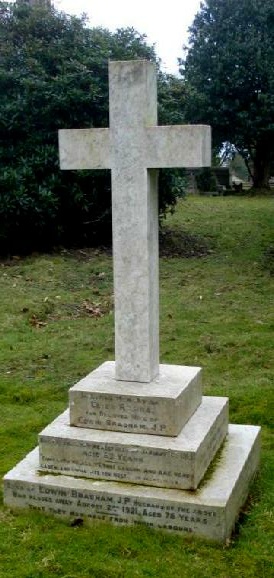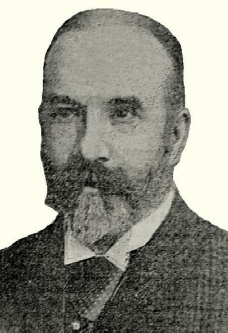 AD C02
Edwin Bradnam was born at Clerkenwell on 24 July1843.
He became a pawnbroker and jeweller in George Street at no 23 and 1Russell Court from 1871-1885, when he seems to have moved to no.43 where he is listed as a clothier.
His wife Eliza Rosina and their baby daughter Gertrude are also buried here.
He was Mayor of Hastings 1884/85, 1885/86 and 1890/91 and Town Councillor for St Clements Ward, first elected in 1872.
The 1871 CENSUS has this household at 23 George Street, Hastings:
Edwin Bradnam. Head. Married. Aged 27. Pawnbroker / Master. Born Clerkenwell, Middlesex.
Eliza R Bradnam. Wife. Married. Aged 22. Born Clerkenwell, Middlesex.
Matilda Skinner. Servant. Unmarried. Aged 21. General Servant. Born Udimore, Sussex.
Alfred Page. Assistant. Unmarried. Aged 21. Pawnbroker's Assistant. Born Stepney, Middlesex.
Harry B Beadell. Assistant. Aged 12. Pawnbroker's Assistant. Born Old Kent Road, Surrey.
Later they lived at Hazeldene', no.30 Mount Pleasant Road.
He was Chairman of the Grammar School governors in 1890, 'a man of fine presence with great beard and whiskers'.
He was associated with the original Hastings Omnibus Company. For some years he was chairman of the Hastings Cottage Improvement Society.
He was also a member of Derwent Masonic lodge; an influential benefactor of Blacklands Church under Rev. Alfred Hodges. He resigned from the voluntary Fire Brigade captaincy in April 1899, having held the post since 1878. He was an honorary member the French & Algerian Fedation of Firemen, Honorary member of La Societe de Sauvetage de France, Chevalier du Devoir de France, 1903.
He was tragically killed in tramcar accident at the Memorial in 1921; the accounts given at the inquest varied and conductor G.Edwards was examined and exonerated.