Friends of Hastings Cemetery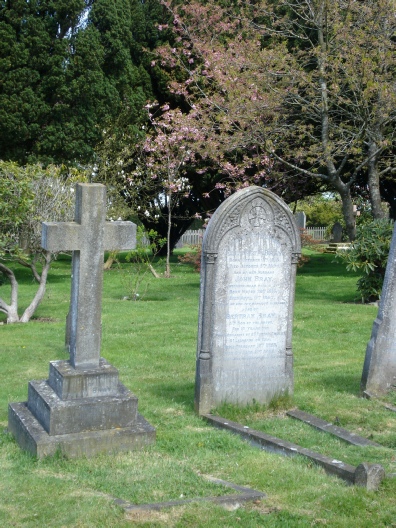 AP H30
In loving memory
of
Elizabeth Bray
Born October 11th 1818:
Died October 5th 1894.
And of her husband
John Bray
Interred near this spot
Born March 26th 1816: Died April 11th 1867.
"Leave we now Thy servant sleeping"
And of
Bertram Bray
5th Son of the Above
For 10 years the
First organist of St Peter's Church,
St Leonards on Sea
Born February 10th 1856:
Died October 31st 1895.
"Lord I have loved the habitation of Thy house"
Also of
Harold Lanfranc Bray
Youngest son of John and Agnes Bray
Born April 30th 1891: Died January 12th 1892
"For of such is the Kingdom of Heaven"
AP I29
In Most Loving Memory
of
John Bray
Who died September 19th 1921
In his 77th Year
Also of Agnes Janet, His wife
Entered into rest May 1916 aged 62 years
Also buried here:
Margaret Sybil died June 26th 1916, aged 16
"Peggy" youngest daughter of John and Agnes Bray.
Agnes Shemmonds [nee Bray] , aged 52, died 21st June 1930
Widow of Dr. John Onley Shemmonds.
Elizabeth and John Bray and family in the 1851 Census, living at 116 Marina. John was a baker.
1851 Census : 116 Marina
Surname First name(s) Rel Status Sex Age Occupation Where Born
BRAY John Head M M 34 Baker Sussex - Winchelsea
BRAY Elizabeth Wife M F 32 Bakers Wife Sussex - Winchelsea
BRAY John Son M 6 Scholar Sussex - St Leonards
BRAY Elizabeth Dau F 3 Sussex - St Leonards
BRAY Delia Dau F 1 Sussex - St Leonards
PIPER Sophia Servnt U F 21 House Servant Kent - Hawkhurst
RANSOM Joseph Servnt U M 24 Bakers Man Sussex - Hastings
Hastings and St Leonards Observer - Saturday 06 October 1894
DEATH OF MRS. JOHN BRAY, SEN. We deeply regret to have record the death which occurred yesterday morning, of Mrs. Elizabeth Bray, widow of the late Mr. John Bray, of St Leonards. The sad event was rather unexpected, as although the deceased lady had been seriously ill for some weeks with pleurisy and pneumonia, she appeared to be much better Thursday evening, and hopes were entertained of her recovery. She was taken ill while in St Peter's Church three weeks ago last Sunday, and was obliged to go home to the residence of Mr. Bertram Bray, 7, St. Peters-road, where she had lived for many years, before the service was concluded. Mrs. Bray had been attended by Dr. Ballingall and Dr. Hewland, and Dr. Trollope was also consulted. Had she lived till next Thursday she would have been 76 years of age.
She had been a widow many years. Her husband was a well known man of his time, a staunch Conservative, who took a considerable part in electioneering work. Mrs. Bray, who came of an old and well known Hastings family, was born at Bunger Farm, near where Ore Station now stands. Both her father and her husband's father were prominent farmers in the surrounding district. She was a regular attendant at St Peter's Church and was well known at St Leonards, and highly esteemed by all who knew her.
Bray John, aged 51: Born March 26th 1816
Died April 11th 1867. Buried nearby in AP E09.
Hastings and St Leonards Observer - Saturday 16 January 1892
On January 12th, at 2. St. John's-road, Leonards-on-Sea, Harold Lanfranc, the youngest child of John and Agnes Bray, aged eight months
On the death of John's wife it is recorded
"The deceased leaves five sons, Alderman Bray, and Messrs. Arthur, Albert, Bertram, and Walter Bray, ……These five are the survivors of a family of twelve, there having been three other sons and four daughters.