Friends of Hastings Cemetery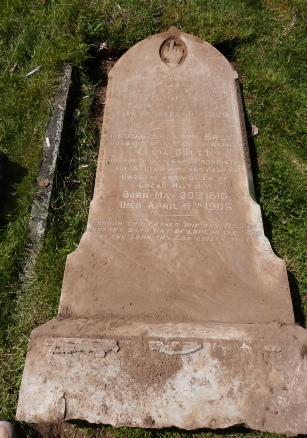 EE M34 - Thomas Brandon and Celia Brett
In Remembrance of
Celia
66 years devoted wife of
T B Brett
Born May 23rd 1821
Died October 19th 1900
__________
Also of Thomas Brandon Brett
Husband of the above named Celia Brett
For many years proprietor
Of the St Leonards and Hastings
Gazette and writer of
Local History
Born May 30th 1916
Died April 4th 1906
__________
"Honour thy Father and thy Mother
That thy days may be long in the land
that the Lord, thy God giveth thee"
Mrs Brett Dies - October 26, 1900
Mrs Celia Brett, wife of the well-known local historian and journalist Thomas Brandon Brett, died on 19 October, aged 77, at their home in Norman Road
BRETT, Thomas Brandon, 1816-1906. Born in George St, son of blacksmith; briefly at Mr Neve's school in Bourne St, back to work in 1830. Activities included 'baking, blacksmithing, drapery, post office duties, tutoring, music and private teaching, bandmaster, dancing master, pedagogue, amateur architect, correspondent of country newspapers'; taught himself painting, glazing, carpentering, paper hanging and bricklaying; a keen meteorologist, and music composer; started printing 1854; injured right hand badly, but was ambidextrous.
In 1868 he signed a deed in the Bankruptcy Court, to repay his creditors
From a New Zealand Newspaper
Mr Thomas Brandon Brett, a veteran Sussex journalist, died at St. Leonards early in April last, within a few weeks of his ninetieth year. He was the father of Mr R. B. Brett, London manager of the New Zealand Press Agency, and the uncle of Mr. Henry Brett, of the Auckland Star. [Later knighted for his services to New Zealand journalism; he had married a childhood friend from Westfield.] The deceased journalist was at one time a schoolmaster. Sixty years ago he started a newspaper of his own in St. Leonards, and was closely connected with Sussex journalism till his death. It was his boast that since he was ten years old he worked eighteen hours a day.