Friends of Hastings Cemetery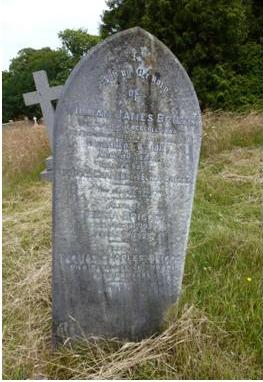 William James Briggs died at Frensham Hill Military Hospital on 9th November 1918.
He was a Pioneer with the Royal Engineers at the Railway Construction Troops Depot. Although he is buried in a family grave he is also remembered on the Screen Wall in Hastings Cemetery. His parents Eliza and Thomas Charles Briggs are buried with him.
The Briggs family originally came from Kent. Thomas was born in Lympne in 1859, and it is possible that in the 1871 Census he was living in Kingsnorth, West Ashford with his parents and two older brothers. A more reliable record is that of the 1881 census. A Thomas Briggs of the right age and birthplace was living in Sellinge, Elham Kent with his grandmother Harriet Briggs, who was a labourer's widow. His occupation was railway labourer. Also living at the same address was a married granddaughter and her husband and child and another much younger granddaughter. By 1891 Thomas was married to Eliza, living at Station Cottages, Stanford St. Stanford and Postling, Kent. He was now a
plate layer. They had two children Dorothy Eva (4) and William James (2) who was born here. Eliza came from Sellinge so they presumably met whilst he was living with his grandmother.
Thomas must have been hard-working and good at his job because by 1901 he had become a railway inspector and the family was living in Ashford, still with just the two children. By 1911 Thomas, Eliza and William had moved to 30 Braybrooke Rd, Hastings, leaving Dorothy in lodgings in Ashford where she worked as a draper's assistant. William had followed his father into the railway business and was a clerk. Thomas was now a Works Inspector in the Engineering Dept. William's railway experience was obviously put to use when he went into the army.
Eliza and Thomas both outlived their son for many years, Eliza dying in Hastings in 1939 at the age of 79 and Thomas in Ashford in 1940 at the age of 80.
It appears that the monumental mason may have got the date wrong on William's epitaph because not only does it say 8th when he died, on 9th but there also appears to be something neatly cut out just before the date, possibly another digit.