Friends of Hastings Cemetery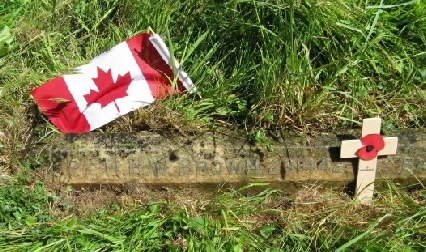 This grave was "discovered" by Diana Beaupre & Adrian Watkinson in a search to honour WW! Canadian casualties buried in Great Britain. Private Hugh Herbert Wiggins Brown(born in St Leonards) is remembered on his uncle's grave
MB B39
H H W Brown. Private in the Canadian Infantry Canadian.
Died on Tuesday, October 1, 1918 from wounds, aged 38.
Hugh Herbert Wiggins Brown was born on the 21st October 1879 in St Leonards. In the 1891 census he was living with his Mother and 2 brothers at 56 Southwater Road St Leonards. His Mother worked as a tailoress.
When he signed up he was living in Edmonton, Canada and gave his occupation as printer. His Mother was then living at 32 Southwater Road. There is a comment on his service record that his Mother died in 116; she is buried at EM H17, and was 64 when she died.
His service record is available at http://central.bac-lac.gc.ca/.item/?op=pdf&app=CEF&id=B1153-S004