Friends of Hastings Cemetery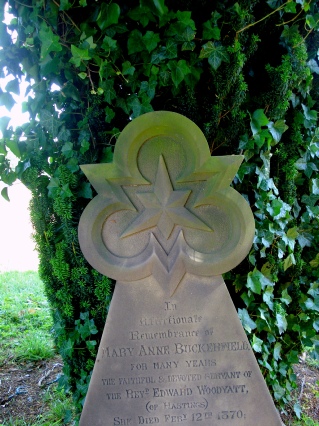 AW G07
In
Affectionate
Remembrance of
Mary Anne Buckerfield
For many years
the faithful and devoted servant of
the Rev. Edward Woodyatt (of Hastings)
She died Feb 12th 1870
Aged 59 Years

Born in Ledbury, Hereford on 4 Oct 1797 to George Woodyatt and Hannah Freeman. Edward Woodyatt married Louisa Georgina Gresley on 2 Mar 1822 in Leamington Prior,and had 6 children. He passed away on 24 Nov 1886 in Wellington Square Hastings, Sussex, England. Louisa died in 1859 in Hastings. They are buried in All Saints Cemetery.
He is remembered in St Mary in the Castle:
IA 95 - Under the clock on the gallery and facing the alter
IN LOVING MEMORY OF THE/ REV. EDWARD WOODYATT, MA/ WHO DIED NOVEMBER 24th 1886/ GIVEN BY HIS DAUGHTERS
Mary Anne was born in 1810 to Thomas and Mary Buckerfield. She was the 4th of six children, and was christened in Kineton. (Her christening record lists her name as Mary Ann. There are many Mary Ann/e's recorded in Warwickshire, but this is the only one matching the dates.)
1871 Census - St. Marys in the Castle,Hastings,Sussex
Mary A. Buckerfield = servant; unmarried; age 29; Ladysmaid. Born in Lightthorne Warwickshire
1881 census 44 Wellington Sqare, Hastings St Mary in The Castle,Sussex
Edward Woodyatt head widowed age 83
Mary A. Buckerfield - servant; unmarrried; age 39; ladysmaid domestic
Hastings and St Leonards Observer 19 Feb 1870 -
DEATH February 12th, at Wellington square, Hastings, Mary Anne Buckerfield, for many years the faithful and most devoted servant of the Rev. Edward Woodyatt, aged 59 years.