Friends of Hastings Cemetery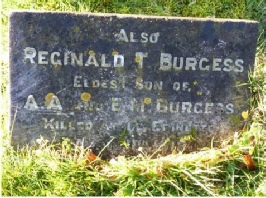 Reginald T. Burgess
BURGESS —In loving memory of Albert Arthur Burgess, who passed away May 21st, 1933; also our eldest son, Reginald T. Burgess, killed in action at Le Epinette, April 11th, 1918; dearly-loved husband and son of Mrs. Burgess, Dawcroft, 67 Beaufort-road. St. Leonards. —Nell (wife), Ernest, Harold and Florrie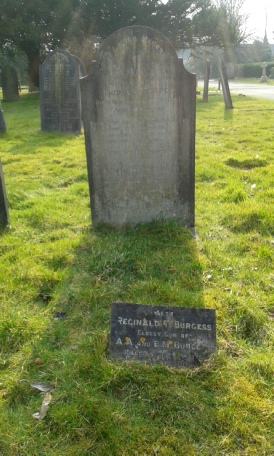 BI A03
BURGESS
in loving memory of
Anne
the beloved wife of Thomas More
Died November 29th 1891
Aged 43 years
Behold the sun was bright and gay
As it shone across our path.
When lo! A cloud appeared I sight
And took our joys away.
Gone but not forgotten
Also of
Albert Arthur Burgess
Dearly loved husband of
Ellen Mary Burgess
Died 31st May 1933 Aged 61.
Also of his wife
Died 7th February 1941 Aged
Reunited.
Reginald Thomas Burgess was the eldest son of Albert and Ellen Burgess of 24 Shepherd Street, St Leonards, on whose grave it is recorded that he was killed at Le Epinette on 11th April 1918 at the age of 24.
He was a private attached to the Machine Gun Corps (Infantry) 51st Battalion, although he had originally been in the Royal Sussex Regiment.
He is remembered on the Loos Memorial. In the obituary notice in the Hastings Observer of 4th May 1918 his rank is given as Lance Corporal.
The Burgesses are recorded as living at 24 Shepherd Street, St Leonards in both the 1901 and the 1911 censuses. Albert Burgess was a baker in 1901 but had become a gardener by 1911.
Reginald had two brothers, Ernest (born 1896) and Harold (born 1905). Both Reginald and Ernest were butcher's assistants.