Friends of Hastings Cemetery

CG Q01
Philippe Julien Burguieres and his third wife, Tryphenia
To
the Memory of
P, J, Burguieres
Who died Nov, 13th 1897
at St Leonards
Also of his wife
Tryphenia
Died 16th June 1934
Philippe was the fourth son, (some records say 3rd son) of Jean Louis Baptiste Burguières & Catherine Michelle Pauline Lallemand, born on May 19, 1816, a year after Napoleon's defeat at Waterloo. He emigrated to England in July 1838, where he became a professor of languages. He married three times and died on November 13, 1897.
Marriage Certificate PJ Burguières and Mary Ann Robbins - Married November 23 1839 Witnessed by her father John Robbins
Marriage of Phiippe Burguières to Louisa Nowers 1845 in Faversham. Louisa died 1882. On her grave is a memorial to Philippe.
BURGUIERES, Phil[l]ippe Jules[Julien]. Professor of French language & dancing, no. 2 Maze Hill, 1851, 1854. 1867.
'Philippe Julien Burguieres', professor of French, no.12 Vale Rd, 1874.
1891 Census - : 7 Alexandra Street
BURGUIERES Phillipe J Lodger M M age 74 Professor Of Music born Overseas - Foreign - France Paris
No record of the third marriage has been found.
BURGUIERES, Mrs. 'Fairseat', no.34 Sedlescombe Rd South, 1903.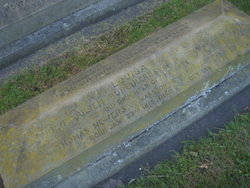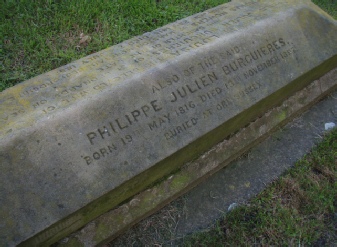 Wife of Philippe Julien Burguieres of St Leonards on Sea Daughter of the late Thomas Nowers of Marston Moretain Bedfordshire