Friends of Hastings Cemetery
Sergeant Wallace Butler, DCM was born in Hastings in 1880.. He is remembered on the grave of his parents,John and Mary Butler, AA A23 , of Quarry Cottage. He was their second son. He was killed in action in France on 3rd September 1916 at the age of 36 whilst serving with 8th Buffs (East Kent Regiment) and is commemorated on the Thiepval Memorial.
In 1911 Wallace lived at 47 Bohemia Rd with his wife Ethel whom he had married in 1903 and their 4 year old daughter Mabel.
He was an ironmonger. Ethel was granted probate of his will in February 1917, where his estate was worth £239 10s.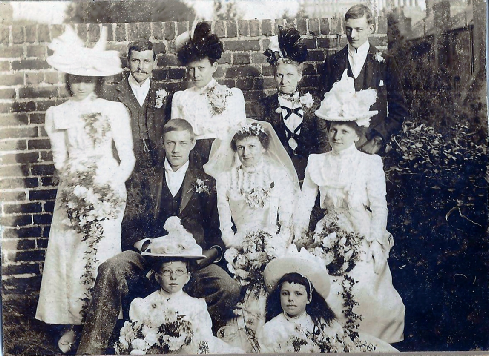 Wallace Butler (right back) in happier times at his brother's wedding. (Image supplied from the Butler Family archives).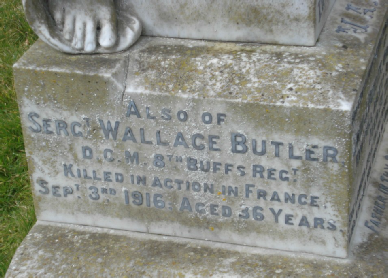 After his death was reported in the Hastings Observer they published the following letter his widow had received from an officer. An article entitled 'How Sergeant Butler Died' reported
In our last issue we referred briefly to the death of Sergeant W. Butler, second son of Mr J. J. Butler of Hastings which took place while in action.
An officer, in a letter to the widow, says he was sniped crossing an open space. ''He was'," says the writer of the letter, ''largely responsible for the splendid attack we made that day. I cannot speak too highly for the splendid work he has always done, whether in the trenches or behind the line. In a previous attack some three weeks ago he was very strongly recommended for bravery in the German trench, and was certainly responsible for the capture of a machine gun and several prisoners. We shall never forget him, and my great fear is that we shall never replace him. He died most nobly, and was buried with due honours, and a cross was erected to his memory near the spot where he fell.''
The attack referred to in the letter was presumably the one for which he was awarded his DCM posthumously. The citation said it was for conspicuous gallantry and ability in leading a bombing squad against an enemy machine gun where he had successfully bombed the team and succeeded in capturing the gun and a number of prisoners.