Friends of Hastings Cemetery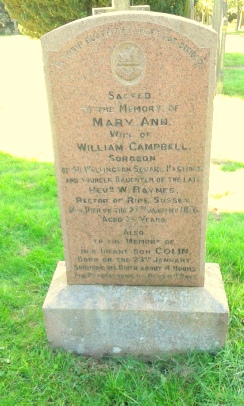 AU B03
In their death they were not divided
Sacred to the Memory of
Mary Ann
Wife of William Campbell
Surgeon
of 40 Wellington Square Hastings
And Younger Daughter of the late
Revd. W Payne
Rector of Ripe, Sussex
Who Died on the 27th January 1876.
Aged 34 Years.
Also
To the Memory of
Her Infant Son Colin
Born on the 23rd January.
Surviving His Birth about 4 hours
And Predeceasing his Mother 4 days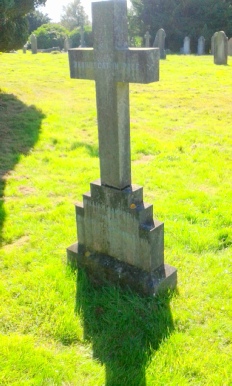 AU C03
William Campbell
Surgeon
Who died 27th November, 1913
Requiscat in Pace
On Reverse:
Donald Henry
Who died on Active Service
South Africa
26th July 1901, Aged 20
And
William Alexander
Drowned on Active Service
8th January 1918, Aged 41
1891 Census
CAMPBELL William Head M M 54 Surgeon (Notem) Argyllshire
CAMPBELL Harriett A Dau S F 19 Hastings
CAMPBELL William A Son S M 16 Electrical Engineer Pupil Hastings
CAMPBELL Madeline A Dau S F 12 Scholar Hastings
CAMPBELL Donald Son S M 10 Scholar Hastings
CAMPBELL Gertrude J Dau S F 8 Scholar Hastings
CAMPBELL Mabel H Dau S F 6 Scholar - Hastings
WERMDERGER Pauline E Servnt S F 20 Governess Dom, Servant Overseas - Foreign - Swtzlnd Neufchatel
DRURY Mary J C Servnt S F 20 Cook Dom Serv Kent - Bonnington
DOWN Margaret A Servnt S F 21 Housemaid Dom Serv Kent - Charing
William and Mary Ann had two sons and a daughter. We know William remarried:
Hastings and St Leonards Observer - Saturday 29 January 1881
To the wife of William Campbell, of 40, Wellington-square, Hastings, of a son January 23rd,
And had at least another two daughters and a son
William Campbell was Medical Officer to the Hastings & St Leonards Post Office; Surgeon to the Infirmary; surgeon to Victoria Lodge (Oddfellows)
Campbell, William Alexander, son of Dr. William Campbell of Hastings,born. 1875,[sic] (1874 FBMD) 1891, died. in South. Africa during South African. War 169 (Epsom College Register)
The Register does not list Donald, to whom the above details apply, and we have so far been unable to trace William's war record.
[Epsom College began life as the Royal Medical Benevolent College.]
Reverse:
Duncan Paynes Campbell
Died 6th January 1886
Aged 13
Eldest son of William Paynes Campbell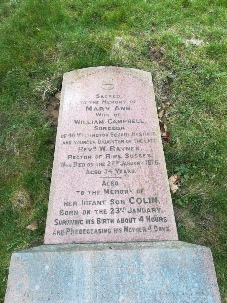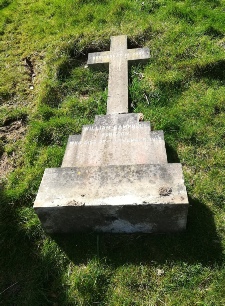 Fallen (or laid flat for safety) graves, March 2019.