Friends of Hastings Cemetery
Jack (Joseph) Bertram Catt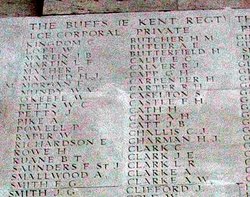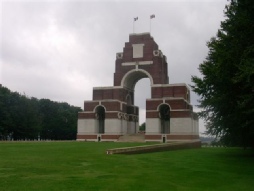 Jack (Joseph) Bertram Catt is the grandson of of Joseph and Harriet Catt, commemorated on the gravestone AP A28 with his grandparents.
He was the only child of the late Joseph and Louisa Catt of Southsea. He was born in Hastings in 1887, as was his father, but in 1901 he and his parents were living in East Ham, where his father was an auctioneer's clerk and he was an apprentice to a linen manufacturer.
By 1911 he lived in Holloway, London with his wife Beatrice whom he had married in 1908, and their 2 year old daughter. He was a shop assistant in a general drapers and outfitters. They had three children in all, Louisa Beatrice May born November 29th 1908, (although not registered until AMJ 1915) Phyllis Irene born August 15th 1912, (again not registered until AMJ 1914) and Bertha Ethel born April 6th 1914.
His father died in Portsmouth on 2nd December 1916 (aged 48 like his own father and only two weeks after his son was posted missing).
Jack was killed in action in France on or about the 18th of
November 1916 and is commemorated on the Thiepval Memorial. He was a private in the 7th Buffs (East Kent Regiment). There are 16 pages of his service record surviving. From this we know that he was 5 foot 3 ¼ inches tall and weighed 115 lbs. He enlisted on 9th December 1915, went overseas on 1 October 1916, joined the Battalion on 21 October 1916, and was posted missing presumed killed on 18 November 1916. He was entitled to the British War Medal, and the Victory Medal. His wife received a pension of 26/3 per week.
There seems to be some conflicting information concerning his death. Despite what was said on the gravestone, on the Commonwealth War Graves site and on his service records, the following announcement appeared in the death announcements in early April 1917 in the Hastings Observer.
Catt J B Private
About 26th March 1917 in France of wounds received in action 18th November 1916, only and dearly loved son of the late Joseph and of Louisa Catt of Southsea and grandson of Mrs J Catt, Saxonhurst, St Helens Rd Hastings. At Rest.