Friends of Hastings Cemetery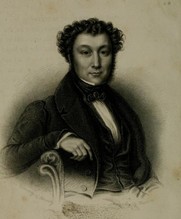 Frederick Chamier AW G20/21


Died 29 Oct 1870 age 72 years
Frederick Chamier (1796–1870) was a novelist and naval captain born in London.
He was the son of an Anglo-Indian official, John Ezekiel Chamier (formerly Deschamps) and his wife Georgiana, daughter of Vice-admiral Sir William Burnaby.
He entered the Royal Navy in 1809 and was posted to the frigate Salcette as a midshipman. After service on the 74-gun Fame he was transferred to HMS Arethusa fighting the slave trade, followed by anther transfer to HMS Menelaus. His only command was of the 10-gun brig Britomart in 1827 which was very soon paid off.
He married Elizabeth Soane 30 Apr 1832, at Esher, Surrey, anf they had one daughter, Eliza Maria Chamier
Retiring in 1827, he wrote his autobiography, The Life of a Sailor, which was serialised in Metropolitan Magazine (1831–1832) nad is available online from archive.org, Google Books etc.
As a midshipman on board the frigate Salcette in May 1810, young Chamier watched Lord Byron swim across the Hellespont at the second attempt. This episode is described in The Life of a Sailor.
He also wrote sea novels somewhat in the style of Marryat, including The Unfortunate Man (1835), Ben Brace, the last of Nelson's Agamemnons (1836), The Arethusa (1837), Jack Adams, or the Mutiny of the Bounty (1838), The Spitfire (1840), Tom Bowling (1841), Jack Malcolm's Log (1846). He also continued William James Naval History, and wrote books of travel.

IN
AFFECTIONATE REMEMBRANCE OF
FREDERICK CHAMIER, CAPTAIN, R.N.
BORN AT SOUTHAMPTON ON 2ND NOVR 1796,
DIED AT ST LEONARDS-ON-SEA, 29TH OCTR 1870

HIS EARLIER YEARS WERE SPENT IN THE NAVAL SERVICE BUT DEVOTING MUCH OF HIS LATER LIFE TO LITERATURE. HE WROTE MANY WORKS WHICH OBTAINED A WIDE CIRCULATION AND TO THE CLOSE OF HIS CAREER HE WAS HIGHLY VALUED BY ALL FRIENDS FOR THOSE TALENTS AND MANY GENIAL QUALITIES WHICH MARKED HIS CHARACTER
--------------------------
ALSO
ELIZABETH (SOANE) WIFE OF THE ABOVE
BORN AT CHELSEA, 12TH MARCH 1812.
DIED AT ST LEONARDS-ON-SEA 18TH OCTR 1879.
—--------------------------