Friends of Hastings Cemetery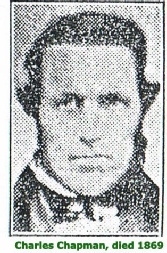 CHAPMAN, Charles –According to David Thornton Charles Chapman was a Cow keeper on the America Ground, and like others, moved his house physically to no's 22 and 23 North Street, c.1835
A deed in the East Sussex Archives, seems to throw some doubt on this story. - Deeds of 22-23 North Street, St Leonards (ESX 19888)
Reference: AMS6247/1
The land on which the houses were built formed part of that purchased by David Manser of Rye, gent, from the trustees of the Eversfield Estate Act on 11 Jun 1835. Charles Chapman of Hastings, milkman, built the two houses and purchased the land on which they stood (plan) from Manser for £85 on 1 Jan 1836; the following day he mortgaged the property to William Blackman of Winchelsea, gent. On 31 October 1853 the mortgage, reduced to £200, was assigned to Elizabeth Williams of Cranbrook, widow; Blackman was then of 1 Raymond Buildings, Grays Inn (1/1-4)…………………………………..
An endorsement on the conveyance of 1836 records a sale off of a house in Gensing Road, built on a plot measuring 18 x 27 feet, to James Chapman, milkman, on 7 Sep 1864 (1/1)
By his will of 17 Sep 1861, Charles Chapman left his estate to his wife Ruth Chapman for life, with remainder to his executors - his sons Charles Chapman of 22 North Street and James Chapman of 23 North Street, both milkmen, as trustees for sale. He died on 16 Oct 1869, and the will was proved on 12 Dec 1870 (1/7)
In St Leonards he sold milk to his neighbours, and had a daily round the area. He kept cow in the basement of North Street premises for fresh milk deliveries to Marina customers; later the cow stall was converted into a pony stable for the milk deliveries.
He married Ruth Foord of Ashburnham, born 1816. (Two other Foord sisters married into the Chapman family.) They had twelve children. Ruth and Charles are buried at AT I20
Hastings and St Leonards Observer - Saturday 23 October 1869
Coroner's Inquest.—On Monday afternoon an inquest was held, at the Horse and Groom, Mercatoria, on the body of Chas. Chapman, sen., milkman, of 23, North-street. From the evidence given it appeared that the deceased, who was 62 years of age, had not been very well for about a month past, but there were no symptoms to give cause for alarm. On Saturday afternoon he left home in his usual health, but about an hour and a half after, while speaking to Joseph Breeds, cellarman at the British Hotel Shades, he fell without warning into Breeds' arms and almost immediately expired. Dr. -Turner was soon in attendance, but deceased was found to be quite dead. The medical gentleman subsequently made a post mortem examination of the body, the result of which was that formed the opinion that the deceased died from syncope or cessation of the heart's action in fainting, and that syncope was caused by feebleness of the heart's action, accelerated by
disease of the liver and other organs. The Coroner, in addressing the Jury, said it was at first supposed that death was the result of heart disease, but the medical evidence proved conclusively that such was not the case. The disuse of the liver must have been formidable and going on for a long time, and the only wonder was that deceased should have been able to get about as he had done while so afflicted. The jury immediately returned verdict of " Natural death."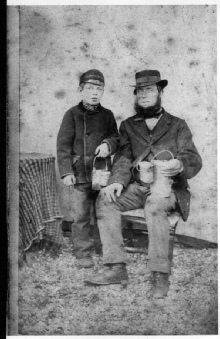 IN MEMORIAM. Chapman.- ln loving memory of Ruth, the beloved widow of Mr. Charles Chapman, sen., who departed this life February 18th, I889. -
Say not our Sister's dead,
She's only gone before,
To be with Him whose blood was shed,
And never sorrow more.
Hastings and St Leonards Observer - Saturday 18 February 1893
This photo show Charles senior, and his son, Charles. In an Observer article profiling him (see next page) Charles junior commented that he started work early in the morning from the age of about 8 or 9.