Friends of Hastings Cemetery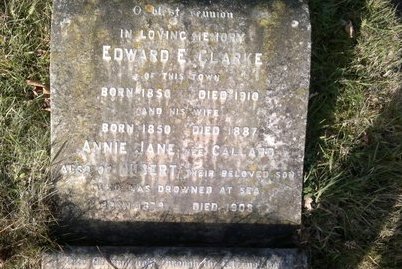 EG A25
O blest reunion
In loving memory Edward E Clarke
of this town
Born 1850 Died 1910
and his wife
Born 1850 Died 1887
Annie Jane nee Callard
Also of Hubert, their beloved son
who was drowned at sea
Born 1879 Died 1908
Into the Eternal light trough the Eternal ?
The deaths (or disappearance) of these three Clarkes were reported in the Hastings & St Leonards Observer, and give a very good idea of them. The children of Annie and Edward used their mother's maiden name i.e. - Callard - Clarke.
Hastings and St Leonards Observer - Saturday 12 November 1887
Death of Mrs Clarke - The Funeral - Yesterday
It is with very great regret that we announce the death, on Tuesday morning early, of Mrs. Clarke, wife of Mr. Edward Clarke, draper, of Robertson-street. The deceased lady was known in Hastings as possessing a very charitable nature, though what she did in this respect was always unostentatiously effected, and hidden as much as possible from all eyes. A friend of Mrs. Clarke informs us that one of her especial cares was to find out people who came as utter strangers to the town, and to extend to them the right hand of fellowship, by taking them to her own house and introducing them as much as possible amongst her friends.
She was a member of the Robertson-street Congregational community, who always found in her an active worker in any praiseworthy scheme to which they devoted their attention.
She had been ailing for some two years, though before she had always looked the picture of health. Her illness began with rheumatic fever, after which followed enteric fever, and consequent exhaustion, from which she died. Dr. Croucher has attended her throughout, and has been most assiduous in his care.
She has only lived in the town six years, coming from St John's Wood, London, where her family is well-known. She leaves three young orphans. Her age was only thirty - eight. The funeral took place yesterday from the house in Robertson-street, where many of the shops bore outward tokens of sympathy, as did others in Queens-road, through which the cortege had to pass on its way to the Borough Cemetery.