Friends of Hastings Cemetery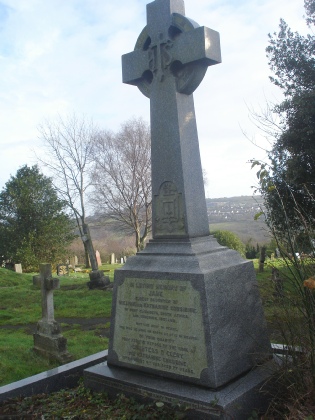 CF B02
In Loving Memory of
Jane
Eldest daughter of
William and Katharine Considine
of Port Elizabeth, South Africa
and Limerick, Ireland
May she rest in peace
Thy will be done on earth, as it is in heaven.
Of your charity
Pray for the repose of the soul of
Countess O'Clery
nee Katharine Considine
Died August 4th 1919; Aged 77 years.
Jane and Katharine were born in Ireland. They had two more siblings, Penelope and Patrick. Their Father William died in Port Elizabeth, South Africa in 1882. Penelope died in Rome in 1899. Jane died in Hastings in 1916.
In 1989 Katharine (Kate) married Count Patrick Keyes O'Clery, The O'Clery (1849 – 23 May 1913) in Hastings. He was a barrister and Conservative Home Rule M.P. for County Wexford. She died died aged 77 on 4 August 1919 at St. John's Villa, St. Leonards-on-Sea.
Probate - Katherine Countess O'Clery
Katherine Countess O'Clery, of 23, Church Road, St Leonards on-Sea, who died on August 4, left estate valued at £18,492 17s. 7d. Probate is granted to the Right Rev. Thomas Canon Ottley, of Norton Road, Hove. The bequests include :£L500 to the rector of the Church of St. Thomas of Canterbury, at St. Leonard% and £?o to each assistant priest ; £12,000 to the Archbishop of Westminster towards the building fund of St. Patrick's Chapel ; £2,000 to the Maynooth College, Ireland ; £1,000 to All Hallowes College, Dublin ; £41,000 to the Archbishop of Dublin for the Poor Fund ; £1,500 to the Loretto Convent, Fermoy ; £2,000 to St. Aidan's Jesuit College, Grahamstown ; £500 to the Marist Brothers' School, Port Elizabeth ; a freehold house, No. 16, Calverley Park, Tunbridge Wells, to Nazareth House, Hammersmith ; No. 23, Church Road, and other property and such a sum as with the value thereof will make up £13,000 to maintain and keep up 23, Church Road, as a Home for Sick and Aged Priests and Clerical Students. The residue of the property she leaves to the Roman Catholic Bishop of the Eastern Province of South Africa, to be used in his diocese as he may think best for the glory of God.