Friends of Hastings Cemetery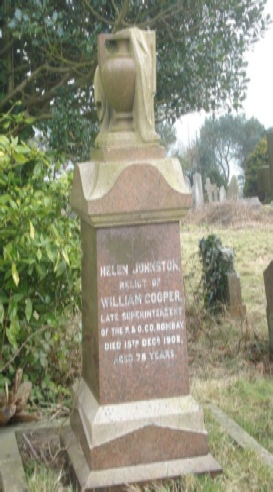 EJ J01
Helen Johnston Cooper - 1830 - 1908
Helen Johnston,
Relict of William Cooper
Late superintendent of the
P & O Co. Bombay
Died 15th Dec. 1908
Aged 78 Years.
Hastings and St Leonards Observer - Saturday 26 December 1908
Mrs. HELEN JOHNSTON COOPER.
We regret to record the death of Mrs. Helen Johnston Cooper, who had been a local resident during the past six years. Mrs. Johnston Cooper passed away on the 16th inst. 7. Grosvenor-gardens, St. Leonards. The deceased, aged 78 years, was the widow Mr. William Cooper, for many years superintendent of the P. and O. Company at Bombay, and was held in the highest esteem by a large circle of friends, being of a most amiable and charitable disposition.

The funeral took place on Saturday, at the Borough Cemetery. The Rev. Canon Hodges officiated. The chief mourners included Mrs. Colin Buchanan. Mrs. Wheeler, Miss Muirhead, Mrs. Burger. Mr. and Mrs. Mollis, and Mrs. Good. The coffin was of polished English oak, with solid brass furniture, and the grave was beautifully lined with evergreens.
The floral tributes included the following wreaths:
"In memory of dear Mrs. Cooper, from A. and J. Wheeler"

"To a very dear old friend, with love, Rest in Peace, from Louie and Maud"

"In loving memory of clear Granny, from Wee Colin"

"To Mummy, in affectionate remembrance. Kate"

"With Mrs. Sommerville and family's best love to dear Mrs. Cooper."