Friends of Hastings Cemetery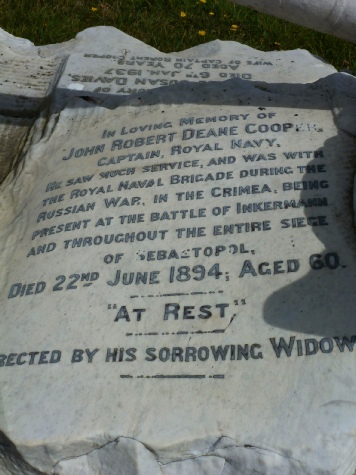 AM D15
John Robert Deane Cooper
1834 to 1894
Beatrice Susan Cooper 1867 - 1937
In Loving memory of John Robert Deane Cooper
Captain, Royal Navy.
He saw much service , and was with
the Royal Naval Brigade during the
Russian War in the Crimea being
present at the Battle of Inkerman
and throughout the entire siege
of Sebastopol
Died 22nd June 1894 aged 60
"At Rest"
Erected by his sorrowing widow
In Memory of ......... Susan Davies
Died 6th Jan. 1937
Aged 70 Years
Wife of Captain Robert Cooper

Cooper was enrolled as a 1st Lieutenant in December 1854. His service can be seen on his memorial.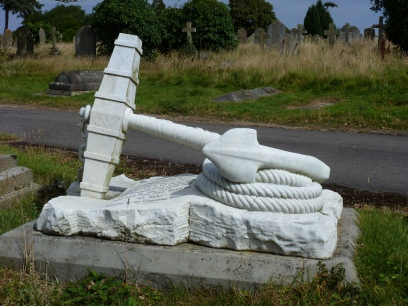 Hastings and St Leonards Observer - Saturday 30 June 1894 cont.
League of Honour and the Fifth Class of the (illegible). Captain Cooper afterwards served on many home and foreign stations, but was on the retired list at the time of his decease.
The remains of the gallant officer were interred at the Borough Cemetery on Wednesday last. By the courtesy of the officer commanding the Coastguards a small escort and firing party attended the funeral. The coffin was covered with the Union Jack, with the medals and orders of the deceased Captain resting on a cushion at the head. Numerous floral emblems of the choicest flowers from the widow, relatives and friends were grouped around. The procession to the Cemetery was headed by the Coastguardsmen, the remains of the deceased man having been previously received with fitting honours by them. The Revenue men, in like manner, paid the last tribute of respect to the gallant officer at the graveside. In addition to the relatives, members of both Services attended as a mark of regard for an old officer and messmate.
Hastings and St Leonards Observer - Saturday 30 June 1894
DEATH OF A CRIMEAN SURVIVOR. We regret to record the death of Captain John Robert Deane Cooper, R.N., which took place at his residence, Godwin Lodge, Hastings, on the 22nd June. The deceased officer had seen much active service. Entering the Navy in 1848, he served until 1832 on the Cape of Good Hope Station and in the early portion of that time, in H.M. ships Brilliant and Orestes respectively, was actively engaged in the suppression of the slave trade on the east coast of Africa and Mozambique Channel. He participated in the services rendered by the Royal Navy during the Kaffir War, 1850-52, and received a medal.
He was appointed to H.M.S. Wasp in 1852, and proceeded to the Mediterranean, and in October, 1854, immediately after the bombardment of Sebastopol, landing in the Crimea with the ship's company, and joining the Royal Naval Brigade then formed at the beginning of that memorable siege as Acting Lieutenant, he was engaged throughout in the siege operations, being likewise present at the Battle of Inkermann, November, 1854, with a detachment from the Naval Brigade. He took part in the attack of the 18th June, 1855, and final assault and fall of Sebastopol, on the 9th September, 1855, re-embarking directly afterwards, having served eleven months consecutively in camp and trenches before that fortress.
He was promoted Lieutenant for these services, and received the Crimean medal, with two clasps (Inkermann and Sebastopol), the Turkish War medal, together with the Orders of Knight of the
The firm [Burchells] has in progress now a very fine anchor, carved out of one solid block marble, weighing about four tons. When finished will have the five medals carved on the shank of the anchor, the whole renting on coil rope chain and rock carved out the same, and enclosed marble kerb, 22ft. 6in. by 8ft. It will bear inscription in imperia [?] lead letters the memory of the late John Robert Deane Cooper, Captain Royal Navy, in active service in the Crimea War—Battle of Inkerman, and throughout entire Siege of Sebastopol. This is the only piece of work of the kind ever executed in Hastings. [Hastings and St Leonards Observer - Saturday 24 November 1894]