Friends
Of
Hastings
Cemetery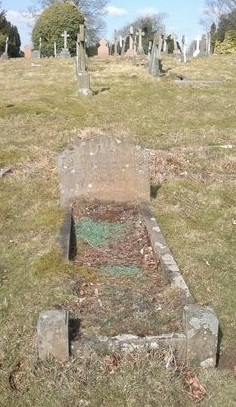 Charles Elvey Cope GA D29
Died 27th December 1943
His wife Lillian Cope died 6th April 1955.
Charles, a writer, poet, composer, organ builder, organist and choirmaster, was born in 1870 in St Leonards on Sea, to Charles Cope (died Hastings 1900) and his wife [Agnes?]
In the 1891 Census he appears to be living with his Godmother, although the initial of the second name is wrong, the age and occupation are right.
Surname First name(s) Rel Status Sex Age Occupation Where Born
BODY Mary Head S F 67 Living On Own Means Sussex - Bodiam
COPE Charles W Godson S M 20 Musician Sussex - St Leonards
Lillian Mabel May was born in Jersey. She was a boarding house keeper. They married in 1893 and lived at 17 Wellington Square. The 1911 census shows them having two sons and a
Daughter. Organist at St Peter's church; music teacher.
The Musical Times - Volume 59 - Page 514
... Solo and Echo occupy one manual; the pipes of the Echo are between the ceilrng and the roof, and there are no less than five vox humanas. This Roosevelt organ seems quite a curiosity. (Specification by C. Elvey Cope, May, 1906.)
Charles was co author with George Bernard Shaw of a book called 'The Greatest Craze of the Age', a book about the tobacco habit.