Friends of Hastings Cemetery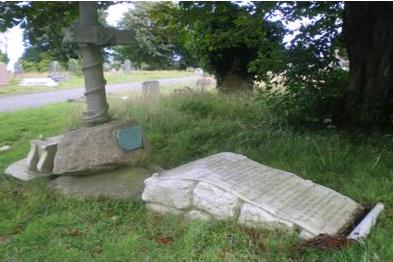 CC B1 - 5
Pray for the soul of Mayflower Corry who departed this life June 17th 1863 aged 16 years.
Pray for the soul of Marian Corry Aunt of the above who died December 1880 aged 60 years.
Pray for the soul of A J Corry A.I.C.E.A.N.A. Brother and nephew of the above who departed this life April 4th 1892 aged 34 years.
Pray for the soul of Eliza, wife of Edward Corry of Essex House, Putney who died October 10th 1893 aged 76 years.
Pray for the soul of Edward Crawford Corry who departed this life on Wednesday 23rd September 1896 aged 46 years.
Pray for the soul of Edward Corry, father, brother and husband of the above who died on 12th January 1900 aged 88 years.
Also of Sarah, Eldest daughter of Edward Corry died 25th April 1917 aged 72 years
Edward Corry was born about 1813 in Dublin. He married Eliza, who the available census entries show was also born in Dublin in about 1817. It appears that at some time the couple moved to London and their 4 children were all born in London/Middlesex.
The eldest child was Sarah, born about 1845, followed by Mayflower in 1847, Edward Crawford in 1850 and Alfred James in 1858.
The census entries traced show that in 1861 Edward and Eliza were living at 20 St Mary Abbott Terrace, Kensington, London with their children Sarah, Edward and Alfred and Edward senior's sister Marianne. There is also an entry for a niece Marianne then aged 20. Edward is shown as a Russia merchant. The youngest daughter, Mayflower, to whom most of the grave is dedicated, died at the Convent in Old London Road, Hastings in 1863. She may well have been sent to Hastings for her health at the time the 1861 census was taken. The only other reference to her found is a probate record where an estate of about £200 is shown and probate is granted to her father. The Convent of Our Lady of the Missions is no longer there.
In 1881 Edward, Eliza, Sarah and Alfred are living at Essex House, West Hill, Wandsworth. Edward is shown as a merchant and the family have servants. Essex House is generally believed to have been built and occupied by Queen Elizabeth 1's ill-starred favourite Robert Devereux, Earl of Essex at the end of the 16th century.
In 1891 Edward, Eliza, Sarah and Alfred are still at Essex House with a Swiss butler, cook and houseman. Edward is again shown as a merchant. Edward junior has been more difficult to trace although the probate record of his brother from 1892 shows two addresses, Essex Court temple and Essex House and it also shows that Edward is a barrister at law.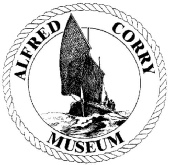 It is Alfred James, the youngest son, who is of most interest. He is shown on the census as an engineer and the grave shows letters after his name which indicate he was a member of the Institute of Civil Engineers. From other research done it appears that when he died he made a bequest to the RNLI for the provision of a lifeboat.
The lifeboat at Southwold in Suffolk subsequently bore the name The Alfred Corry and today the museum there still bears his name.
Eliza, her sons Edward and Alfred and her sister in law Marian, all died at Essex House, Putney whilst Edward senior died at 62 Marina, St Leonards on Sea and his eldest daughter Sarah died at Fairfield, Boscobel Road, St Leonards on Sea.
After the census entry of 1861 no further trace of Edward's niece Marianne can be found and a probate record for his sister Marian shows that she was a spinster.