Friends of Hastings Cemetery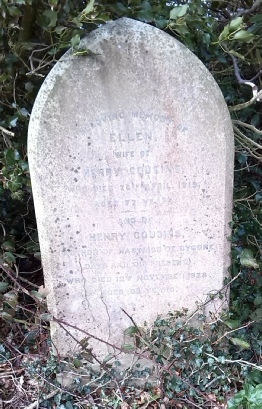 DG A232
In Loving Memory of
Ellen
Wife of Henry Cousins
Who Died 26th April 1919
Aged 72 Years
And of
Henry Cousins
Author of Hastings Bygone
Days and the Present
Who died 12th November 1928
Aged 85 Years
There was a fullsome obituary in the Hastings Observer 17 November 1928, page 3.
HISTORIAN OF HASTINGS.
DEATH OF MR HENRY COUSINS.
A CIVIC PIONEER.
Mr Henry Cousins, historian of Hastings, and for many years one of its most prominent townsmen, died on Monday, after a brief illness, at 'Neotsbury', Laton Road, where he resided with his son-in-law and partner, Mr H E Debenham. He was in his 86th year.
Since he came to Hastings, a young and ambitious man, over sixty years ago, Mr Cousins has given of his best to the town of his adoption. Alike in his business, in his public activities, and in his historical research, he proved himself a man of tireless industry and fertile imagination. Steeped as he was in the lore of the past, he never allowed himself to be blinded to the need of the present or the vision of the future. His early advocacy, often in the face of bigoted opposition, of a 'forward' policy on the part of the municipality entitled him to be known as one of the
FOUNDERS OF MODERN HASTINGS.
His encyclopedic knowledge of local affairs was always at the service of his fellow citizens, and his genial disposition won him the respect and affection of all who knew him.
Mr Cousins was born at Saxmundham, Suffolk, in 1843, his father, like him an octogenarian, being for 60 years a basket-maker in that town.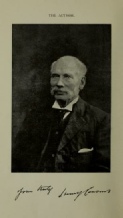 Born in Suffolk., 12th June 1843
1866: came to Hastings
Married, 1868, at St Mary-in-the-Castle, Ellen Ellis
Joined F J Parsons in partnership; dissolved 1873.
Became an auctioneer and valuer.
Died, 12th November 1928:aged 85