Friends
Of
Hastings
Cemetery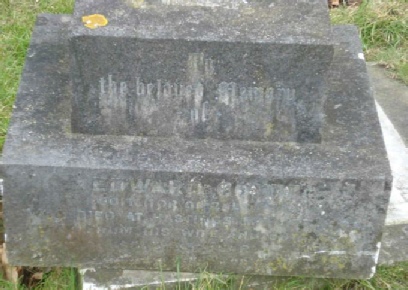 AQ G01
In
The beloved Memory
Of
Edward Cowie
Solicitor of Calcutta
Died at Hastings Sussex
1859 - 1895
Edward Cowie was born on 7 October 1859 at Calcutta, India. He was the son of David Cowie and Caroline Deverel.
In 1889 he married Evelyn Harriot Davies, in Calcutta.
Cheltenham Looker-On Gloucestershire, 4 May 1889
April 29th at St. Paul's Cathedral, Calcutta, Edward, eldest surviving son of David Cowie, of Calcutta, to Evelyn Harriot, eldest daughter of Henry Davies, of 8, Lypiatt Terrace, Cheltenham. (By telegram.)
They had a daughter, Celia Ellen Alexia, on 18 Mar 1890, in Calcutta. In 1914 she married Cyril Rodney Carter, Esq., D.S.O.. Major K.O.R. Lanes. Regt.. (born 1888)
Edward died on 17 May 1895 at age 35, at Hastings.