Friends of Hastings Cemetery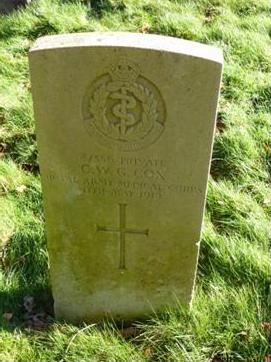 C. W. G. Cox DF A20
Charles William George Cox was listed as a private in the Royal Army Medical Corps (20th Co. Tidworth) when he died of tuberculosis on 11th May 1919. His army medical records are comprehensive but it has been less easy to find out about his family as Charles Cox is a very common local name and his wife is only listed by her initials as next of kin on the Commonwealth War Graves Commission.
He enlisted in, or was conscripted into, the army on 8th September 1916 when he was 23 years 113 days old. He was of good physical development, 5' 11'' tall and weighed 145lbs. However some previous signs of illness or physical defect were noted so he was only passed Category B1 (fit for garrison duty) and assigned to the RAMC. He was reassessed later but his grading remained the same. He was posted for duty on 17th October 1916 to Codford, a 100 bed hospital on a military base, and on 17th January 1917 moved to Fargo SP, a much larger military hospital (1037 beds) on the Larkhill Military Base in Wiltshire.
It was here that his health began to fail. He was admitted to Fargo Hospital in December 1917 with pleurisy, returned to duty a month later but in September 1918 TB was first diagnosed. He was discharged from the army as no longer physically fit for war service with 100% disability. He was given a pension and in February 1919 given a 'constant attendance allowance' of 15s a week. His address was given at Queen's Lodge, Alexandra Park. His occupation at his enlistment was given as gardener so perhaps he worked for the local council.
It is unclear when he married. His wife is listed as B. E. Cox of 155 Malpas Rd, Brockley, London on the CWGC site, and in his medical papers she is listed as Mrs C.W.G. Cox of Dumb Woman's Lane, Udimore. There was a memorial notice posted in the Sussex Agricultural Express on 7th May 1920 saying 'In loving memory of my dear husband Charles William George Cox died 11/5/1919 Sadly missed.' but no name is given. There were no children.
As regards his family, there is a Cox family listed at living at 13 Hurrell Rd, Ore in 1901. There is a son Charles born c1894 in Hastings and a daughter Lucy, born c 1896. The father Charles was listed as a gardener (not domestic) so possibly this was a family trade. There is no sign of the family in the 1911 Census.