Friends
Of
Hastings
Cemetery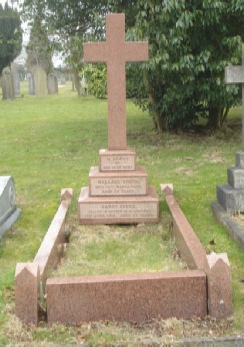 BE L16 - The Creed Family grave
Henry (Harry) Creed was killed in action on 17th April 1918 and is buried at Abeele Aerodrome Military Cemetery in Belgium.
He was a Sapper with 25th Div Signals Coy Royal Engineers.
The son of Richard and Harriet Creed, he was born in Hastings in 1891. At the time his family were living at 6 Alfred Terrace and his father was a joiner. There were five children. By 1901 the family had 6 children and were living at 6 Waterworks Rd. In 1911 Harry was still living with his parents at 14 Waterworks Rd and his occupation was given as telephone inspector.
He went to France on 27th September 1915.
The Hastings Observer of 4th May 1918 contained the following announcement on page 8.
'April 17th 1918 killed in action Sapper E. Creed (Harry) dearly loved second son of Mr and Mrs Creed, 14 Waterworks Rd, Hastings, aged 27.'