EA A08
Sir Frederick Leigh Croft, Baronet
Born 14th February 1860
Died 31st March 1930
Sir Frederick Leigh Croft was the 3rd Baronet. He was 70 when he died.
He was born on 14 February 1860, the son of Sir John Frederick Croft, 2nd Bt. and Emma Graham. He died unmarried.
He succeeded as the 3rd Baron da Serra da Estrella [PORTUGAL, 1854] on 24 May 1904. He succeeded as the 3rd Baronet Croft, of Cowling Hall, Yorkshire [U.K., 1818] on 24 May 1904.
Sir Frederick Leigh Croft was the general manager of the leading British managing agency in Karachi, Douglas Graham and Company. Muhammad Ali Jinnah, a barrister, politician and the founder of Pakistan, worked for his father whose firm was closely associated Douglas Fraham & Coy. Sir Frederick had a great influence over young Jinnah, which possibly lasted his entire life.
Jinnah looked up to the handsome, well dressed and a successful man. Sir Frederick liked him, and, recognizing his potential, he offered him an apprenticeship at his office in London.
Extract from Quaid-i-Azam Mohammad Ali Jinnah,:
Sir Frederick Leigh Croft was on the first board of directors of The Bank of India which was a wholly Indian-owned. It was established on 7 September 1906 by a diverse syndicate of Hindus, Muslims, Parsees and Jews with the intent of promoting Indian interests and providing banking services to all Indians. Sir Frederick was the only non-Indian on the Board.
Hastings and St Leonards Observer - Saturday 05 April 1930
A NOTED OARSMAN. DEATH OF SIR FREDERICK LEIGH CROFT AT ST. LEONARDS.
A lifelong rowing enthusiast. Sir Frederick Leigh Croft, Bt., aged 71[sic], died on Tuesday at West Hill Lodge, St. Leonards, following an illness lasting only two days. A member of a large family and born at Doddington Hall, Kent, he was educated at Eton, following a period at Miss Wilkinson's preparatory school, St. Leonards. Following in his family's footsteps as a "wet bob"/ he rowed for Evans House with his brother John in the Eton fours in 1875 and later stroked the college eight. He also rowed for the Diamond Sculla. He was a member of 'Pop' [a nickname for the 'Eton Society' the elected members of which act as school prefects] and latterly joined the Eton Viking Club. Shooting was his other pastime, he actively followed both until quite recently. The greater part of his life was spent India, where he followed the profession of stockbroker. On his retirement in 1919 he came to live with friends at West Hill House. The funeral will be to-day (Saturday) at 2,30 p.m. at the Borough Cemetery.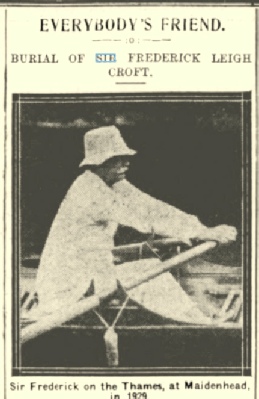 Hastings and St Leonards Observer - Saturday 12 April 1930
EVERYBODY'S FRIEND.
BURIAL OF SIR FREDERICK LEIGH CROFT.
Sir Frederick Leigh Croft, the well-known Etonian oarsman, who died on Tuesday last week at West Hill Lodge, St. Leonards, was buried at the Hastings Borough Cemetery on Saturday afternoon.
Sir Frederick was everybody's friend. From his fellow members in the East Sussex- Club to the children he met on his walks and the errand boys who called at his home, all who knew him regarded him with real affection. His days were filled with innumerable acts of kindness, and he practised a quiet and unobtrusive charity, which was all the more real because it shunned publicity. He gave much away to needy folk, and more than one struggling local tradesman has cause to remember Sir Frederick with gratitude as the lender of a helping hand in a difficult time.
The funeral service in the little cemetery chapel was conducted by an old friend, the Rev. E. H. Leale. The immediate mourners were: Mr. Percy Croft and Mr. Thomas Croft (brothers), Mrs. Graham and Mrs. Rose (sisters), Sir John Croft (nephew and heir), …..The grave was lined with primroses, favourite flowers with Sir Frederick There were many beautiful floral emblems, but the members of the family brought simple bunches of spring flowers to lay on the grave. Many children, who had grown to love Sir Frederick, with his kindly smile and never failing bag of sweets, brought posies of primroses and wild violets.