Friends of Hastings Cemetery
The Dawes Family continued
Daniel Butler Dawes served in the Royal Navy.
Ranks:
Lt (1841)
Ship Ranks:
Lieutenant on the Columbine from 26 Jun 1846
Chief Officer of the Coast Guard - Bembridge, Isle of Wight (10 Mar 1853)
THE LONDON GAZETTE, APRIL 17, 1866. - Admiralty, 17th April, 1866.
And the undermentioned Lieutenants have been allowed to assume the rank of Retired Commander from the same date :— Daniel Butler Dawes
Daniel Butler Dawes appears to have died unmarried.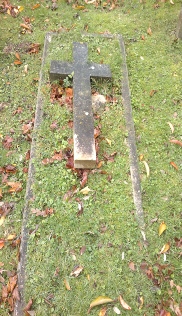 Dawes, Caroline Louisa
widow of Christopher [Myers Dawes]- died at St Leonards 20/11/1887
Also on this memorial - Harry Michael Dawes, b. 26 Nov 1863, d. 26 May 1888 aged 24.
Sale item - Genuine and original Victorian legal document dated 24th September 1861, certificate of Acknowledgements of Deeds by Married Women. Refers to Caroline Louisa Dawes, the wife of Christopher Myers Dawes… Page two states that the premises wherein Caroline Louisa Dawes is interested are in Guiseley in the county of York. Document sworn at St Leonards on Sea, Sussex.
1861 census for Hastings St Mary in the Castle, Sussex shows Christopher Myers Dawes born c1819 Nova Scotia Halifax and wife Caroline Louisa born c1833 York Yorkshire plus children born Southsea, Hampshire and Cork, Ireland