Friends
Of
Hastings
Cemetery
Charles Vigant Monterossi de Falbe AW G26
Sydney Morning Herald Thursday 21 December 1865
FALBE—LESLIE—September 12th at the Priory Church, Great Malvern, by the Rev. W. Walsham How, rector of Whittingham, Salop, Vigant Falbe, Commander, Royal Danish Navy, to Emmeline Maria, widow of the late George F. Leslie, Esq., and daughter of the late H. H. Macarthur, Esq.
Emmeline was the daughter of Hannibal Hawkins Macarthur (1788-1861)who was the nephew of John Macarthur of Elizabeth Farm and Camden Park. Hannibal purchased a property called Vineyard in 1813 and in 1833 commissioned architect John Verge to design a large house to replace the existing Vineyard cottage. This 'very superior' new house was not long completed when Charles Darwin went to lunch there in January 1836 with a group of naval officers from the Beagle. From that time until late 1848 when financial disaster forced Macarthur to sell the estate, Vineyard was a centre of social life in the colony.
Her maternal grandfather was Philip Gidley King (1758-1808), first governor of Norfolk Island and Governor of New South Wales, born 23 April 1758 at Launceston in Cornwall, where his father, Philip King, was a draper; his mother was a daughter of John Gidley, attorney, of Exeter.
Emmeline claimed to be the last woman to see Leichhardt before his final Australian exploration on which he disappeared. NEXT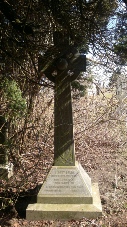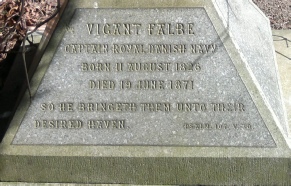 VIGANT FALBE
CAPTAIN ROYAL DANISH NAVY
BORN IN AUGUST 1826
DIED 19 JUNE 1871
SO HE BRINGETH THEM UNTO THEIR DESIRE HAVEN. Psalm 107. v. 30