Friends of Hastings Cemetery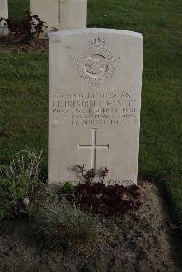 Thomas Frank Preston Thwaites Dennett
DENNETT, Second Lieutenant, THOMAS FRANK PRESTON, 52nd Sqdn., Royal Flying Corps. and 4th Bn. The Queen's (Royal West Surrey Regiment),
Thomas Dennett was born on the 6th April 1895 in Croydon, Surrey, the son of Frank Herbert Thwaites Dennett (originally from Hastings) and Mary Isabella Dennett (who was born, according to the census in both Hastings and Leamington Spa) on whose grave he is commemorated. His father was a cook and confectioner.
The family obviously did well, as by 1911 his father was a caterer and ball furnisher. He had one sister Dorothy, who was a domestic economy student. The family was living in comfort in West Thornton Heath, in a house with 13 rooms with a servant and a resident gardener.
By 1917 the family had also acquired a fairly substantial property in Pett, The Cedars.
Thomas was educated at the Whitgift Grammar School, Croydon and went on to study medicine briefly at Guys Hospital, beginning in February 1914, studying dentistry and biology. 'Though not at Guy's for very long he was much liked by his contemporaries, to whom his death will be a source of great sorrow.' (Guy's Hospital Reports Vol.LXX, War Memorial Number)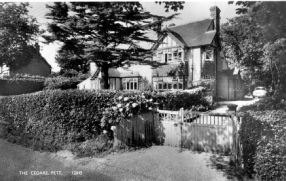 The Hastings & St Leonards Observer records that ''On the outbreak of war in 1914 he enlisted in the Yeomanry and went out with the 29th Division to Egypt and the Dardenelles., proceeding to France in March 1916 where he served August (1916). After training at Cambridge he was gazetted to a commission on 19th December (1916) and was on active service from January until April with his regiment. He was then attached to the Royal Flying Corps after a short training at Brooklands and met his death while engaged on a reconnaissance over enemy lines as an observer. [see also http://www.flightglobal.com/pdfarchive/view/1917/1917%20-%200872.html?search=Dennett ]
His C.O. wrote 'I cannot tell you how sorry we all are. Your son was extremely popular in the Squadron and was always ready to do his work and take any risks that were necessary. During the time your son was in my squadron I had grown to look upon him as a thoroughly reliable fellow and a good officer and a very promising observer.'' (Obituary in the (Hastings Observer August 1917).
He died at the age of 22 on 5th August 1917 of wounds apparently to the stomach, received that day (although some records give the date as the 4th) in action at La Panne . it appears his squadron was involved in experimental work liaising with balloon observers to help the artillery improve their targeting. At the time of his death he was a second lieutenant with the Queen's (Royal West Surrey Regiment) 4th Battalion (Territorial). He is buried in Coxyde Military Cemetery, West Vlanderen, Belgium.
After his death his parents made a gift of land to the village of Pett for a village hall to be built. According to John Taylor's history of 'Pett in Sussex' this was completed in 1923 after two years of fundraising and continued to serve the village until it was replaced in 2002. A plaque commemorating the gift was moved from the old to the new village hall.