Friends of Hastings Cemetery
He was a composer of music and his profession in the census is given as Professor of Music.
One of his compositions, Valse de l'hopital, was written to promote fundraising for the Devon and Exeter hospitals. The sheet music cover paid tribute to the governors, surgical staff and subscribers of the 'valuable institutions', one of which features on the front cover. The dances were played at a special concert. They were composed when his son Edward's life was saved by the doctors.
Their children were:
Edward born c.1840 France
Emma b. c.1842 France
Matilde b. c1844 France
Alice Rose born 1851 Exeter
Science Museum Group: https://collection.sciencemuseumgroup.org.uk/
This image is released under a Creative Commons Attribution-NonCommercial-ShareAlike 4.0 Licence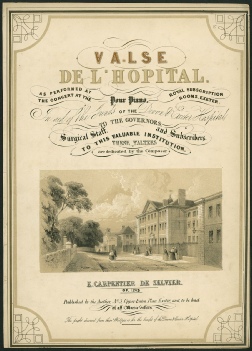 Edward de Selvier-Solis, of Darro, Spain (Census gives his birthplace as France) is found on the 1851 census in Exeter. He was born c.1795. On the 1851 census (under Carpentier) he is found at 16 Paris Street, Exeter, with his wife Emma, born 1820 in France, with children.
There is a death record for an Annie Eliza De Selvier in 1886 aged 48. She died in Ireland, so she may be a sister of Elias.
Alice Rose De Selvier Solis, youngest daughter of Edward De Selvier of Regent's Park and sister of Edward De Selvier of Seapoint, married Charles Cary-Barnard, formerly rector of Brocklesby Kirmingham in Lincoln, (1863 – 69), residence at time of marriage - Hotel de Ville, Naples. This was Charle's second marriage, he was a widower.
Hungerford House, Blackrock the residence of the bride's brother Edward, Alice Rose, youngest daughter. of Edward de Selvier Solis of Darro, Spain,. Married by special licence at Dublin 27 April 1870.
Children of Rev. Charles Cary-Barnard and Alice Rose de Selvier Cary-Barnard
Muriel Vera M Cary-Barnard - 1873
Gerard Charles V Cary-Barnard - 1875
Cyril Darcy Vivien Cary-Barnard – 1876 (later Brigadier General)
Hubert Vyel Juan Cary-Barnard – 1878
Lucille Valerie Cary-Barnard - 1879
Lucille died, aged 11, and is buried in Hastings Cemetery,

AK F01
Leamington Spa Courier - Saturday 03 January 1891
CARY-BARNARD. —On the 30th December, at No. 4, Clarendon-square, Leamington, Lucelle V. C. Cary- Barnard, the dearly-loved child of Charles Cary- Barnard, aged 11 years and 4 months.

Her mother, Alice died at 30 Eversfield Place, St. Leonard's-on-Sea, on 1 December 1891 and is buried in the same grave.