Friends of Hastings Cemetery
Francis Guillemard Simpkinson de Wesselow - p.2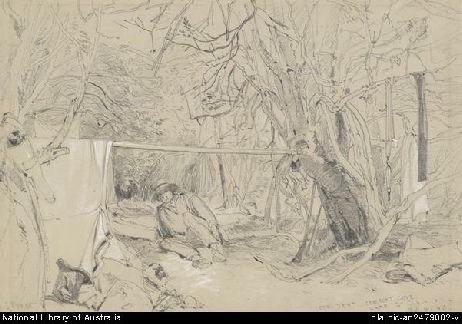 This drawing shows Simpkinson, it is entitled Our tent, Comfort Cove, Lake St. Clair, V.D.L., Feb. 10, '45 and was drawn by John Skinner Prout (1805-1876), nephew of Samuel Prout, who has a blue plaque in George Street, Hastings.
Simpkinson was an accomplished artist and in Hobart he painted a number of landscapes, some of which are in the Tasmanian Museum and Art Gallery.
In 1845 at the Hobart Town Art Exhibition, (the first major fine arts exhibition in any of the Australian colonies), Simpkinson showed one watercolour.
Simpkinson's training at the Royal Naval College, Portsmouth, with thirteen years at sea as a topographical draughtsman, impressed John Skinner Prout, the colony's leading artist. The two men formed a remarkable friendship as landscape painters, which lasted until their departure to England in 1848. In 1900, Simpkinson gave his entire collection of colonial paintings to the Royal Society of Tasmania. Topographically, his watercolours are unsurpassed. His genius was to combine this with extraordinary fluency and artistic insight.
"Among the talented amateurs of his circle were such watercolourists of charm as F. G. Simpkinson, or Simpkinson de Wesselow as he called himself, a nephew of Lady Franklin, wife of the Arctic explorer, then Governor of Tasmania.
Frances Guillemard Simkinson de Wesselow
It is also recorded that he was a friend of J W M Turner.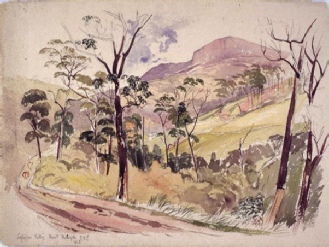 Sassafras Valley V.D.L. Mount Wellington - Simpkinson De Wesselow, Francis Guillemard, 1819-1906
(Courtesy of the W. L. Crowther Library, Tasmanian Archive and Heritage Office)