Friends of Hastings Cemetery
Diplock's 1846 Handbook for Hastings and St. Leonard's was the first to contain fauna lists for district, with additional lists in 2nd ed of 1855.
He is advertising as an insurance agent for Atlas Fire & Life in 1851, also as a bookseller and stationer. In 1867 he is a "bookseller, stationer, music seller, library & reading room (in connection. with Mudie & Booth, London), no.38 Robertson Street."
He moved his Library to 38 Robertson Street, when it was developed. "Diplock's Library and reading room at sea end of Robertson St, removed from George St in 1860.".
With James Notcutt & Ebenezer Dobell, he established the Congregational church in Robertson St c.1856, opened 1858 and was elected deacon 1861.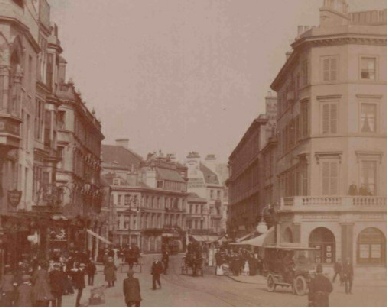 Diplock's Library and reading room at sea end of Robertson Street - Carlisle House, on left, jutting out.
Diplock's Library noted as [1864] the telegraph office.
Bookseller & stationer & agent to London Art Union, no.38 Robertson St, 1874
William Diplock gave up his business in 1874 and moved to Adcroft Villa, 16 Alma Terrace where he died on 22th March 1886. He is recorded in Cousin's list of 69 professional & commercial men, whose families were of importance in 18th & 19th centuries Hastings & St.Leonards history. (There are earlier Diplocks recorded in Hastings.)
Hastings and St Leonards Observer - Saturday 20 March 1886
DEATH OF MR. WILLIAM DIPLOCK. Our obituary this week contains the name of an old and respected inhabitant, Mr. William Diplock, formerly, and for many years, one of the leading tradesmen of the borough, whose death took plaoe at his residence, Adcroft Villa, Silverhill, on the 11th inst. Mr. Diplock was born at Brighton on 23rd May, 1810, and came to Hastings with his father about the year 1829. He was first in charge the business afterwards known as Powell's Library, opposite the Old Battery at the east end of the Marine-parade.
In 1838 he removed Barry's Library, which was rebuilt in 1839.

He remained in business at Marine-parade until 1860, when built he Carlisle House, Robertson-street where carried on the buslness of bookseller and librarian, until 1874. At the latter date be gave up business and removed to Silverhill, where he resided till his death. He married in 1840 the eldest daughter of the late J.G. Langham Esq , and leaves a widow, three sons,and two daughters.
Although deceased took no prominent part in the political or municipal life of the borough, it may be said that in his removal another link of old Hastings is lost. His pubic duties were chiefly confined to his connection with the Congregational body in the town. He was a member of the church in the Croft from the time of his settling here, and he was elected deacon of the church in 1853, when the Rev. G. Stewart entered upon the pastorate. He remained in office until 1867, whan Mr. Stewart left. He was subsequently appointed deacon and trustee of the Church in Robertson-street, resigning his office in or about the year 1883. Upon his removal to Silverhill, he became a manager of the Board School there, and, as school Treasurer, rendered valuable services to the educational work, being much esteemed by all with whom he was connected. His last illness commenced in tbe autumn of 1882, and has taken the form of a slow decay of mental and physical powers, which, i t isthought, may possibly be traced in the past to the effect of sunstroke he received in 1849. He passed peacefully away at the advanced age of 76, and his mortal remains were interred in the Borough Cemetery Wednesday. —The News.
Eliza Sarah Diplock 1814 – 1900, also buried in BB D02 died aged 86 in Nov. 1900
Hastings and St Leonards Observer - Saturday 24 November 1900
DEATH OF MRS. DIPLOCK. We deeply regret to announce the death of Mrs. Eliza Sarah Diplock, widow of Mr. William Diplock, and eldest sister of the present Mayor of Hastings, Alderman Langham. J.P.
The deceased lady, who had attained the advanced age of 86, passed away early Thursday morning at her residence, Adcroft Villa Silverhill. She had been in failing health for some time past. The late Mr. William Diplock, who carried on business in Robertsonstreet, was well known as the publisher of several excellent Guides to Hastings; gave up business years ago, and went to Silverhill, yesterday (Friday) being, by a coincidence, the 26th anniversary of that date, Mr. Diplock died in 1886.
The deceased lady was at the head of the membership roll at Robertson Street Congregational Church, she and her husband having come there from the Croft Chapel when the Robertson Street Church was first started. Mr. Diplock was a Deacon at Robertsonstreet, and Mrs. Diplock was, until later years, known as one of the most active members. Mrs. Diplock leaves three sons and two daughters, two brothers, and two sisters also surviving her. Much sympathy will be felt for the relatives in their loss. The funeral will probably take place on Tuesday next, at the Borough Cemetery, at two o'clock.