Friends of Hastings Cemetery
John Thomas Dunbar died in the Middlesex Hospital from illness contracted in France on 26th November 1916 aged 40. He was a Lance Serjeant (sic) in the Royal Warwickshire Regiment 16th Battalion, (3rd Birmingham) Royal Sussex Regiment. This was one of the Birmingham 'Pals' battalions. At the time of his death his mother Mrs Dunbar was living at 19 Cornwallis Gardens. (The 1910 Parson's directory has Mrs Dernbach living at 19 Cornwallis Terrace.)
He is buried in a private grave and commemorated on the Screen Wall in Hastings Cemetery and in Holy Trinity Church.
John was born as John Thomas Dernbach in Hastings in 1876. His parents, John(?) Dernbach and Isabella, had married in 1874.
In the 1891 census the family are living at 19 Priory Street. His Mother, Isabella, is a loging house keeper. John is not listed, but Charles, Albert and Percy are listed, as well as Rose (she married in 1904.) Percy married a local girl and went to Halifax, Nova Scotia (listed as Percy William Dernbach Dunbar) on the Hesperian and later lived in Toronto.
In 1901 John is listed in the census as visiting a boarding house in Lambeth with his brother Charles. John is a commission agent, Charles a commission clerk. His age is correct for J T Dunbar, and his mother's address in 1919 is the same as his mother's in 1911, although the name is different.
In 1911 John Dernbach is living in Westminster, still single and living on his own. His occupation is given as commission clerk, but unusually there is a note added 'I (the in....ator (illegible but presumably a position to do with census returns) view that he is a bookmaker commission agent.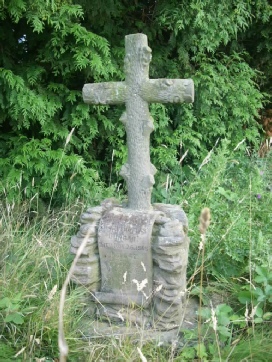 EK M26
Beatrice Annie Crouch
Aged 6
Died October 1889
John Thomas Dunbar
'Gave his life for his country'
Also
Dernbach Isabella
Aged 70
Died April 1919
Charles Dunbar
Aged 55
Died April 1932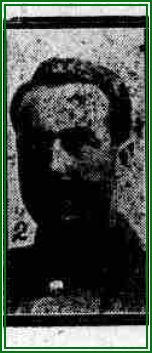 Albert also served in World War One. http://www.ww1rollofhonour.co.uk/index.php/2016/05/dernbach-albert-edward/


Hastings and St Leonards Observer, 20 Apr 1918
LIEUT. A. E. DERNBACH. Seoond-Lleut. A. E. R.F.A., Brigade, was wounded the right hand on March 21st, and admitted to the Red Cross Hospital at Toquet. He was gassed March 28th, and is now in the 3rd London General Hospital, Wandsworth.
N OTICE is hereby given, that " ALBERT EDWARD DUNBAR, of No. 3, Priory-garden Mansions, /Hastings, in the county of Sussex, a Second Lieutenant in the Royal Field Artillery, formerly known as Albert Edward Dernbach, a natural born British subject, has by deed poll under his hand and seal, dated the 8th day of February, 1919, and enrolled in the Central Office of the Supreme Court of Judicature on the sixth day of March, 1919, renounced and abandoned his name of Dernbach and adopted the name of Dunbar, and intends on all occasions hereafter • and in all deeds, documents, actions, proceedings, matters and things to use the name of Dunbar in lieu of his former name of Dernbach.— Dated the 12th day of March, 1919. A. E. DUNBAR, formerly known as A. E. 135 Dernbach.
From The London Gazette 21st March 1919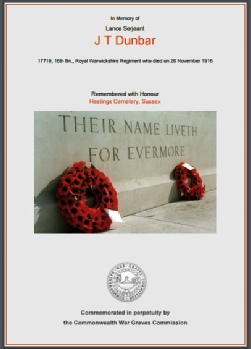 As a footnote, there is reference to a Charles (or Herbert) Dernbach (or Dennis, or Schubert or Hind) an accountant born in 1879 on trial in Clerkenwell Court for 'getting his livelihood by dishonest means'. He was tried by jury and found not guilty - but he did have a record going back to 1898 for theft and fraud under a variety of names. Not sure if this is the same Charles Dernbach but he has the same year of birth and is in the same (approx) line of business.
If this is the same Charles, maybe it prompted the change of surname
Percy arrived in Halifax, Nova Scotia on the Hesperian from Liverpool; he was a clerk, listed to be a farm labourer.
"The marriage was solemnised at St. Barnabas Church, Toronto, Canada, Saturday, the 2nd August, between Mr. P. W. Dernbach, a well-known local sportsman, and Miss F. C. Simes, also from the town.". - Hastings and St Leonards Observer East Sussex, England, 23 Aug 1913