Friends of Hastings Cemetery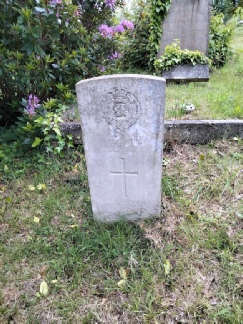 L.A. K10
Lance Corporal
W H Edmunds
Royal Engineers
3rd October 1915 Aged 20
'THEY MISS HIM MOST WHO LOVE HIM BEST'
Son of Henry and Florence Edmunds, of I, Cobourg Flats, Cobourg Place, Hastings. 2nd Home Counties Field Coy.
Hastings and St Leonards Observer - Saturday 09 October 1915
MILITARY FUNERAL
Deep sympathy is extended to Mr. and Mrs Edmunds and family, of Gladstone House Rock-a-Nore-road, Hastings. in the sad lose they have sustained by the death of their eldest son, Lance-Corporal William Edmunds, at the early age of twenty, while serving his country.
Previously to joining the Forces, he as employed by one the Oil Companies. About twelve months ago he joined the 2nd H.C Field Company RE.. for the motor transport, and proceeded to the Front with the Company, serving under Captain A. C. Ticehurst. He was on active service about four months, when he received injuries through a serious accident, and was invalided home last April. He was then attached to the home service men. and acted as chauffeur to Captain Holman up to the time of his death. He came home on leave about a fortnight ago and was taken ill, and was removed to the Hastings Sanatorium, where he died last Sunday afternoon from septic blood-poisoning.
His father is in the A.S.C. motor transport, and has been on active service for about five months, but obtained leave attend the funeral, and returned again Fridav his duties.
The funeral took place on Thursday after-noon at the Borough Cemetery, with full military honours. The Rev. H. C. B. rector of St. Clements, officiating. A large number friends and sympathisers assembled at Rock-a-Nore. and at various parts on the route. The chief mourners were the father and mother. May, Fanny, Freddie, Dollv, Annie, and Jimmy (brother and sisters) Miss Lena Adams (fiancee). Mrs. F. Foster (aunt). Mm. Claiko (grandmother). ...... The coffin, covered with the Union Jack, bore the deceased's cap, tunic, bayonet, and Captain Holman's wreath, was conveyed to the Cemetery on a gun carriage, drawn by a team of six horses, under Sergeant Hodder. .... Lance Corporals Stevens, Philpot. Dennett. Hilder, Wheel. Towner, the deceased's comrades, acted as bearers. ........
Mr. and Mrs. Edmunds wish to thank all kind friends for their sympathy towards their dear son. and for lovely floral tributes.