Friends
Of
Hastings
Cemetery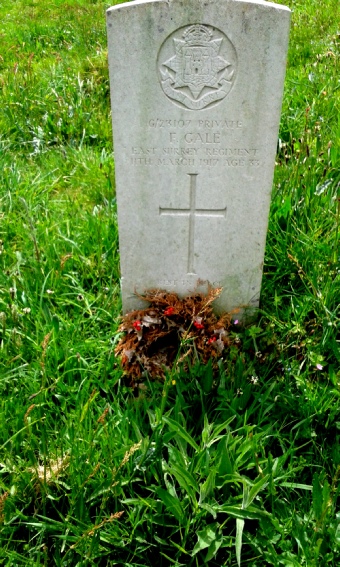 LC B9
G/23107 Private
F. Gale
East Surrey Regiment
11th March 1917 Age 33
Rest in Peace
Hastings and St Leonards Observer - Saturday 17 March 1917
DEATHS: GALE. - On March 11th, 1917, at Middlesex War Hospital. Private Frank ("Joey") Gale, East Surrey Regiment, second son of Mr. and Mrs. J. Gale, 94, Manor road, Hastings, after a serious operation. Aged 34 years.
Born 1884 St Leonards, East Sussex. Parents Joseph and Emily(Burch).
In 1891 the family are at 38 Manor Road; there are six children. 1901 he was with his parents and 4 siblings at the same address and was a French Polisher.
He married Mary Barton 1904. in the 1911 Census Frank & Mary with 3 children are living at at Coleman's Cottage, Croft Terrace, Hastings—3 rooms.