Friends of Hastings Cemetery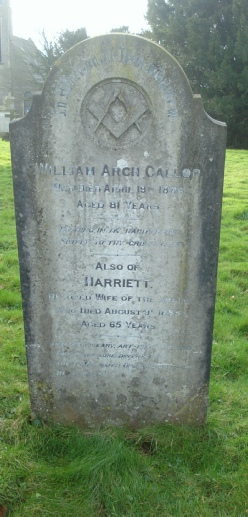 AB A16
William Archibald Gallop 1800—1881
Harriett Gallop 1820-1885
In affectionate remembrance of William Arch [sic]Gallop
who died 19/4/1881,aged 81 years.
"Nothing in my hand I bring simply to thy cross I cling."
Also of Harriett beloved wife of the above who died 9/8/1885 aged 65 years.
"Art thou weary, art thou languid, art thou sore distressed? Come to me saith One and coming be at rest."
—--------------------------
7th October 1848
Agreement to lease by

William (Arch) Gallop

of All Saints Hastings, mariner
Piece of stonebeach in All Saints, west of the East Well, for one year from 29 September 1848 at 5sh. per annum.
In the 1851 census William, a fisherman and his wife Harriet were living at 82 All Saints Street, with their children, William, 14; Edward,11; Charlotte, 7 and Mary Ann, 3. All the family were born in Hastings.