Friends of Hastings Cemetery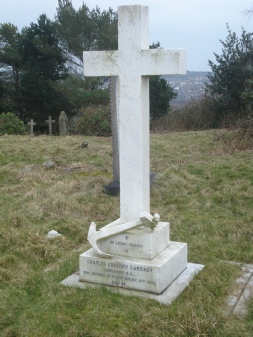 EM M01
Charles Gregory Gardiner 1849-1903
In Loving Memory of
Charles Gregory Gardiner
Commander R N
Who entered into rest 8th August 1903
Aged 54
Charles had a short naval career he was made a Mate and Sub Lieutenant on 19the August 1868 and served on HMS Forte. He was made a full Lieutenant in December 1878.
Will of Charles Gregory Gardiner, late of No. 2, Magdalen-road, St. Leonards-on-Sea, in the county of Sussex, formerly of No. 31, Marina, St. Leonards-On-Sea aforesaid, deceased, who died on the 3th day of August, 1903, and whose will was proved by the Reverend Frederic Evelyn Gardiner and Robert Septimus Gardiner.
SAD AFFAIR AT HASTINGS. SUDDEN SEIZURE AFTER A GAME OF GOLF. (SPECIAL OBITUARY NOTICE.)
It is with much regret that we have to announce the painfully sudden death of Commander Gardiner, son of the late Rector of St. Leonards, the Rev. George Gregory Gardiner, and very well-known in the west end.
The circumstance of his death are set forth in the following report of the inquest before the Borough Coroner, Mr C. Davenport Jones, at the Market Hall, on Monday evening.
The first witness was John William Gardiner, a retired India Civil Servant, living at 92, Halton-Road, Upper Norwood, brother to the deceased, who said that the deceased was in his 55th year. He was a retired naval officer and lived at 2 Magdalen road St Leonards. Witness last saw him alive on the 13th of last month. He was in good health.
Willem Jones, a golf caddie, of 104, All Saints-street, said about twenty minutes past one he was going towards the Golf Club. When he 'had got up Belmont to within twelve. yards of the bend of the road he found deceased lying on the ground, with his right leg under the bicycle, and lying sideways. He was
black in the face, and appeared to be dead. Witness fetched a doctor, and de­ceased was afterwards taken to the mortuary. By the Coroner—He didn't see any signs of a struggle.
Mr. Charles Richard Mason, a surgeon, said he was called to see the deceased, who was quite dead. Witness had made a post mortem examination, and death was caused by the rupture of a small blood-vessel.