Friends of Hastings Cemetery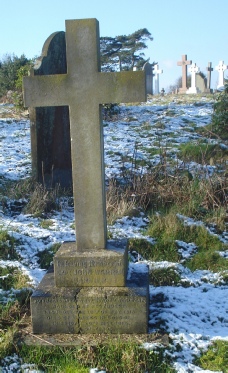 In Loving memory of
Cpt. John Warren
Garnier
3rd Queen's Royal West Surrey Regiment
Wounded at Fesubert
on Sunday the 1st of May 1915
Died of wounds in London
on Friday 28th May 1915
Aged 37 Years
EM O16 – John Warren Garnier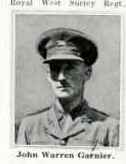 Captain John Warren Garnier was the second son of the Rev Thomas Parry Garnier and his wife, the Hon Louisa Warren née Vernon. He was born in Cranworth, Norfolk on June 2nd 1877. He was educated at Northaw Place School, near Potters Bar, Hertfordshire and at Haileybury College (1891-94). He was gazetted 2nd Lieutenant 16th April 1901 and served in the South African War, taking part in operations in the Cape Colony, 1901 – 1902, ' receiving the Queen's medal with three clasps, and retired with the rank of Captain.
In 1903 there is a GARNIER, Arthur Edmund living at No.53 Priory Avenue who was John's uncle,and wrote a family history, The Chronicles of the Garniers of Hampshire During Four Centuries, 1530-1900.
In 1910 Capt. J W Garnier is Secretary of Hastings, St Leonards & East Sussex Hospital. In 1912 he is playing at St Leonards Golf Club in a medal competition and in December 1912 in the monthly bogey.
At the outbreak of the war in 1914 he rejoined his old regiment, on 24 September 1914, embarking for France in January 1915. He was wounded in action at Festubert on 16 May 1915, was transferred to the 1st London General Hospital, St Gabriel's College, Camberwell on 24 May, described as "seriously ill from a gunshot wound".
He died there on 28 May 1915 aged 37. He was unmarried.
He is commemorated on the school war memorial at Norman Court School, West Tytherley, Hampshire - the successor to Northaw Place.