Friends
Of
Hastings
Cemetery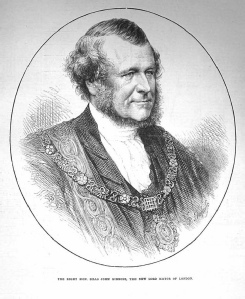 AU H03
Sir Sills John Gibbons 1809-1876 - Deeply mourned by all who knew him.
Annie - buried 5/10/1903 age 83
He was born either in Chatham or Sittingbourne in 1809. He served as an apprentice to a wholesale tea dealer in the City from 1824 to 1831, although he later became a hop merchant. He had become a freeman of the City through the Salters' Company, and became Master in 1863-64 and in 1874-75.
A member of the Metropolitan Board of Works for the City of London 1868-71.
Gibbons was a Common Councillor for Castle Baynard ward between 1858-62, and Alderman from 1862-1875. He became Lord Mayor of London 1871-2
Mark Twain refers to a Mayoral Procession when Gibbons was Lord Mayor in his Letters, Volume 5: 1872-1873. A portrait by Williams is held by Guildhall Art Gallery
He was made a Baronet of Sittingbourne in 1872, title ending with his death in 1876.
"The death of Sir John Sills Gibbons [sic]... occurred at Hastings, whither Sir John and Lady Gibbons, with members of their family, had latterly resorted for change of air, Sir John being in declining health." "The Late Sir John Sills Gibbons.-Yesterday." Times [London, England] 15 Jan. 1876: 8
He was also a disappointed parliamentary candidate for the City in 1868, fighting in the Conservative interest, and a JP for Middlesex.
<http://www.london-city-history.org.uk/biography.htm>
The Hastings Observer reported Gibbons' death "at Hastings". His widow and unmarried daughter were living at 17 Magdalen Road in 1881 when the Census was taken (his widow described her occupation as "baronet's widow"). The Observer reported that he had retired to Hastings "in broken health after his recent financial difficulties", and there are bankruptcy notices in the London Gazette. Apparently a collection was begun to help his family, and £1200 was raised.